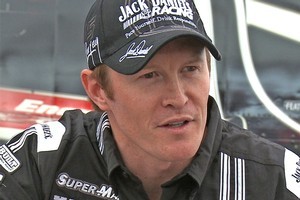 Scotsman Dario Franchitti won the Indy 200 at Mid-Ohio today, reducing the gap to season points leader Will Power in the IndyCar series, while New Zealand driver Scott Dixon remained third in the standings after his fifth placing.
Power, who started from pole for the seventh time this year, battled all the way to finish a close second ahead of Penske Racing teammate Helio Castroneves, of Brazil, after 85 laps of the 3.62km road course.
Franchitti, whose only prior victory this season came at the Indianapolis 500, twice beat Power out of the pits today.
He then held off the Australian over the final 15 laps after a lap 70 restart to win by just 0.5234sec, the third closest road/street course finish in series history.
"I think the key to the race, obviously, was the car was very fast. I drove every lap like it was a qualifying lap today, whether I was behind Will or ahead of Will," said Franchitti, who started second.
While his pit stops were faultless, Power had some trouble with traffic when all pitted under yellow.
"It's great for the series we've got so many cars. It's a good problem to have when you can't fit the cars into pit lane," he said.
"I was trying really hard at the end to make him make a mistake, letting him see me in his mirrors, letting him know if he made one little slip-up, I'm going to get him.
"That was the only way I was going to get by."
Power's fellow Australian and teammate Ryan Briscoe finished sixth behind Dixon.
Power, who had already clinched the inaugural IndyCar season road course crown before the green flag, lost 10 points off his overall lead but still has a 41-point advantage over Franchitti, 461 to 420, in the standings.
Dixon is third with 379 followed by Briscoe with 352 and Castroneves 340.
Five races remain in the campaign, the next on the Sonoma, California, road course on August 22 followed by four oval events.
- AFP