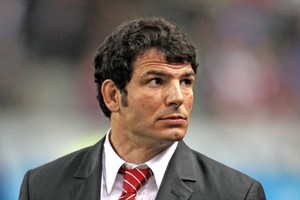 France coach Marc Lievremont admitted today that the Six Nations champions have a lot of work to do if they are to challenge the All Blacks at next year's World Cup.
Lievremont said he had watched all four Tri-Nations matches to have been played so far between New Zealand, Australia and South Africa and had been hugely impressed by the standard in each one.
"To play such rugby at such speed, four matches at such a level and with such an intensity. It is a new trend in the Tri Nations," Lievremont told French sports daily L'Equipe.
"Certainly it is a result of the new application of the rules that prioritise ball possession. The kicking game is uniquely for attacking."
He said he will try to copy the All Blacks method.
The All Blacks top the table having beaten South Africa twice on home soil and, on Saturday, demolishing Australia 49-28 in Melbourne - three performances that have left Lievremont purring about their rapid short-phase passing game.
"They have not hit this level since last November in Marseille against us (when New Zealand won 39-12). To produce this style of rugby in three consecutive matches is extremely rare," says Lievremont.
"They play a game of three pass phases maximum except when they can complete the action. The ball-carrier looks for the contact.
"They are always going forward, always looking to release the ball, always trying to play while defending. The smallest error from the other side is immediately punished."
In spite of seeing France shipping 40 point defeats to both South Africa and Argentina during the summer tour, Lievremont is glad to see the All Blacks style winning through in the tournament over that of the world champions.
"South Africa are not good at the moment," he says.
"They settled on a very pragmatic game, a massive physical engagement and they walked over everyone. That this kind of rugby has been overpowered doesn't worry me at all.
"Of course, the All Blacks method is the one which we will try to put in place - although I don't like to admit it.
"What hurts most is the technical quality of the New Zealanders in every department. Everything stems from that. Our difficulties over the last three years essentially come from that."
Lievremont, who says he is still "bitter" about the disastrous summer tour, believes that France will now be playing catch-up if they have any realistic hopes of repeating their suprise quarter-final victory over the All Blacks in the last World Cup four years ago.
"We have to move towards players who are very strong in contact and support, capable of breaking defences.
"If we want to rival this kind of rugby then we have some work to do because apart from the physical shortcomings we noticed big gaps in June.
"For the Tri-Nations they are at the peak of their form. They have the physical dimension and they are also fresh.
"As for us we are going to hang in there, bank on a squad that knows our game plan and on the physical freshness of the players.
"After the physical preparation we will have workshops on individual technique. We will eat and drink it! From there we will try to catch up."
Lievremont will get a chance to see if his players are closing the gap on the Tri-Nations teams when France meet Australia in Paris on November 27.
- AFP