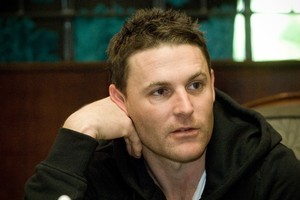 At 28, Brendon McCullum is embarking on a new beginning. He is preparing to become the senior professional in the Black Caps without any leadership responsibilities other than to perform.
He is continuing his test career as a top order batsman without the wicketkeeping gloves. He is taking a break from the team touring Sri Lanka after a run of more than 200 consecutive games in the sport's various forms.
He is waiting anxiously to see if another Indian Premier League (IPL) contract is in the offing at December's auction. He is recovering from keyhole surgery to remove floating bone and cartilage damage to his knees after years of crouching behind the stumps. He is a new dad, with wife Ellissa giving birth to their second child this month, their daughter Maya. He is touring the country signing copies of his new book Brendon McCullum: Inside Twenty20 (Hodder Moa).
In short, he's always on the go.
McCullum is happy to be stepping away, albeit for a brief period, from a New Zealand side where he has been on the treadmill through a series of airports, hotels, tournaments, series and interviews for six years full time. It has formed part of a rapid journey from the Albion Cricket Club in south Dunedin through to the likes of Eden Gardens in Kolkata, home ground of the Knight Riders in the IPL.
Yet that should not surprise. Most things about McCullum are rapid. His accumulation of runs at the batting crease, his transition through ideas as he talks, his draining of his cup of coffee at the interview table, his hobbling up to shake your hand on what will soon be refreshed knees after Christchurch surgeon Andrew Vincent sorted them out this week.
However, this is his chance to stop, pause and think, starting with his new role. His demotion from the Black Caps vice-captaincy is outlined in the cleverly-titled chapter 'The sack race' as he and former coach Andy Moles raced to their impending doom (Moles won). McCullum outlines how a scenario emerged where the selectors decided he was the wrong man to be Daniel Vettori's deputy. The pair had a tough conversation, but McCullum says he can adapt to the new environment.
"Dan leads from the front and I enjoy playing under him. I still support him. I have struggled in the last few months trying to get some confidence back after being dumped as vice-captain. My role in the team has changed, I just have to lead through performance rather than strategy.
"Dan is disciplined whereas I'm more of a gambler. For instance, with our test approach, I'd be inclined to be more aggressive and push the boundaries (figuratively and literally) rather than just getting better skills, because we are not getting the results we want against bigger nations."
But that is not McCullum's brief any more. Instead, in tests, it comes down to how he fares in the top order as he stakes his future solely on batting.
"I knew something was going to have to give so I could continue my career. It hurt at the time to make that call not to keep, but it is the right one. It is forgotten now, but I cut my teeth as an opener in four-dayers a decade ago. I know how to deal with batting at the top of the order. I'm hoping my aggressive style can win us more test matches."
McCullum admits it doesn't always come off.
"My style of cricket is always going to be a struggle; but there have been moments I have really captured. With five or six years left I can help win big test matches."
There are plenty of examples where McCullum has won big matches, none more so than his 158 off 73 balls in the opening match of the IPL's inaugural season against Bangalore. McCullum became a star of the game with that knock in 2008.
However Kolkata could not make the finals, nor in the following two tournaments which saw them come last under McCullum's captaincy in 2009. His three-year contract comes up for renewal with the next auction in December. Compounding that is the fact he has had no Twenty20 internationals to boost his reputation in the meantime. He'll be selected but it is a matter of intrigue whether he can summon his original US$700,000 a year.
"It's a nervy time but there's not much I can do now," McCullum says. "I've got to bank on past performances and hope the attitude I bring to a team is sufficient to reap a decent deal.
"But I don't want to get back after this knee operation just because of the IPL. I want to get back to nail down a top-three spot in test cricket and make sure I get a big season behind me before the World Cup."
Still, talking to McCullum, you suspect part of him hankers for those days back at the Albion club, sitting in that dressing room, getting ready for a local derby.