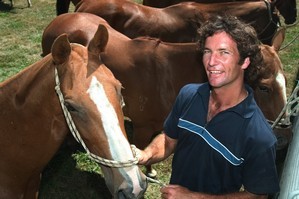 About $7 million worth of ponies are ready, 30,000 elegantly tailored spectators are expected to attend and the champagne is on ice for a night of revelry once New Zealand has challenged England for polo's Coronation Cup tonight.
At least that is the expectation when the Guards Polo Club website - without a hint of tongue-in-cheek - instructs patrons on where they can land their helicopters for one of the social highlights in the English summer calendar.
Somewhere in this eclectic mix will be the New Zealand team at Smith's Lawn in Windsor Great Park, just west of London. It is the fifth time New Zealand has been invited to contest the Cup after the inaugural match in 1951. The Kiwis have won it only once, in 1991. Last time the sides met on Smith's Lawn in 2006, New Zealand lost 9-7 but they did beat England in the most recent international at Waikato's Kihikihi in February.
Tonight's international sees both sides' handicaps level at 27 goals each, meaning neither team starts with any goal advantage. Polo handicaps vary from -2 to 10.
New Zealand's captain John Paul Clarkin is rated an eight, Simon Keyte is a seven while Tommy Wilson and Sam Hopkinson are sixes.
It is a situation that has pleased New Zealand manager Roddy Wood, who by day runs the Coworth Park polo centre five minutes down the road: "Having nothing on the scoreboard to start is an advantage. There was a bit of political wrangling over that last time when we were automatically down two goals."
Wood, who has been based in England since 1984, is less pleased with the team's preparations. "We've been able to get more practice this year but held a match against a strong trial team on Wednesday which didn't go terribly well. We lost by about four goals."
Clarkin, 32, has played around 20 internationals for New Zealand but it is just his second Coronation Cup.
"It's a busy week with functions everywhere but fortunately we've had time for a few practices and thanks to some kind people we've got some good ponies together."
New Zealand polo great Cody Forsyth has joined the team as a coach. Forsyth retired at the last Coronation Cup after 20 years in the saddle but is enjoying being back.
"One of my jobs has been getting plenty of quality ponies, some of which have taken a year to source. It takes a lot of diplomatic liaising to get them loaned. Doing so is a huge risk given their value."
Forsyth has helped organise about 70. He estimates on average they're worth around $100,000 each. "They're just like a human athlete, born not made," Forsyth says. "There are hundreds you can choose but the ones we need for a day like this are special.
A £185 ($390) ticket - including the match entry fee - means guests can also enjoy exclusive London nightclub Chinawhite which transports itself to the park for the night.