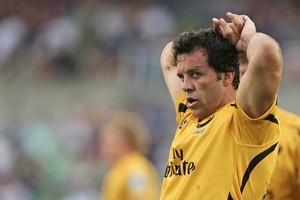 The Boks won at least one important victory this weekend - Brendan Cannon apologised to Springbok coach Peter de Villiers.
In an unprecedented live-on-air apology Cannon, the former Wallabies hooker, said sorry for calling de Villiers "a clown" on a rugby programme.
The comments came after the programme played a clip of de Villiers making the latest in a series of eccentric comments.
"I've got my own observations about the last two tests," de Villiers said, "and maybe I can't say it in public, but we do have a World Cup in New Zealand next year and maybe it was the right thing for them to win the games so they can attract more people to the games next year."
This was interpreted in many quarters as an oblique way of saying the two tests against New Zealand may have been allowed to go the All Blacks' way. They came hard on the heels of de Villiers' comments after those tests that he might need to coach his team to "cheat" to stay on an even playing field - widely translated as a dig at All Blacks captain Richie McCaw.
A panellist on the TV programme, Cannon upset South African officials when he said: "I can't believe that senior players like John Smit and Victor Matfield allow themselves to be controlled by this guy. He is a clown. He surely does not coach the team."
Springboks spokesperson Anthony Mackaiser delivered Fox Sports, a Tri Nations broadcast rights holder, an ultimatum that they apologise or no longer have on-air access to South African players or management.
This amounted to an illustration of the real power base of Super Rugby - the impropiety of one of Sanzar's leading nations effectively going on strike against the leading arm of the main revenue source.
Even in withdrawing his comments, Cannon stuck to the thrust of his argument. "I must say I think Peter de Villiers' public comments inferring recent refereeing decisions in New Zealand... were biased to sell World Cup tickets are pretty far-fetched. Let's be honest, these comments tarnish the good name of some great IRB referees," he said.
Meanwhile de Villiers has "clarified" those statements attributed to him with regard to the staging of the Rugby World Cup in New Zealand next year.
"In no manner did I ever suggest that the All Blacks were being favoured - by match officials or anyone else - because their country was hosting the Rugby World Cup next year," said De Villiers.
"My comment was based on the general view that part of the success of any World Cup event rests on the fact that the host nation has a winning team.
However, there are many in rugby who believe de Villiers' criticism of referees is 100 per cent correct, particularly his complaints regarding the policing of McCaw.
Only one thing is certain: before next weekend's All Black test against the Wallabies, the Australians will turn the spotlight on the All Black skipper and ratchet up the pressure on the referee.