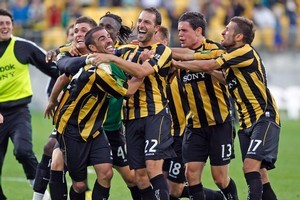 The Wellington Phoenix defence are bracing for a searching examination when they play top Argentine club Boca Juniors in the capital tomorrow night.
But Phoenix skipper Andrew Durante welcomes the timely test.
"It's our last build-up match ahead of the A-League, which begins in a couple of weeks, and is a good chance to see where we are.
"We are very excited to be playing such a quality team, but the main thing for the players is that we need to make sure we play well, we do what we have been working on in training and try not to get caught up in all the hype.
"We want to put on a good show for the crowd but first and foremost we want to put in a good, solid performance, each and every player."
He said Boca retained possession well and scrapped hard to get it back. "I'm sure they are going to have a lot of flair and tricks and flicks and stuff like that."
Durante, who played every game last season, was a rock in the middle of the Phoenix defence as they launched a mid-season run into the playoffs.
Such was his impact, the Australian earned a Socceroos call-up and won the club's player of the year award ahead of crowd favourite Paul Ifill.
He was looking to continue where he left off. "I've played a couple of trial games now, it's still early and I'm still trying to get to peak fitness, but I am happy with where I am at this stage."
The dangers posed by Boca attackers such as Marcelo Canete, who scored a brilliant individual goal in the 1-0 win over Melbourne Victory last Friday and had another screamer tipped over the bar, and Nicolas Blando could not be underestimated.
The Phoenix lost powerful central defender Jon McKain to Saudi Arabian club Al-Nassr in the off-season.
"We've got a steady back four - Ben Sigmund who's been known to do his job very well, we got Troy Hearfield on the right and Tony Lochhead on the left," Durante said.
"Tony won't be playing on Friday but we have Manny Muscat, who will play left back, and Mark Paston, who is a great keeper.
"And I think the whole team as a defensive unit is very good and we'll need that on Friday night."
However, the Phoenix were not going to sit back and defend for 90 minutes.
"We know it's not going to be a light game, we need to be switched on and ready to go.
"We have to go out there and attack as we have exciting players, too - Leo Bertos and Paul Ifill - who can put them on the backfoot."
Wellington Phoenix won their first pre-season match 2-1 over Brisbane Roar in Hamilton but lost 2-0 to Adelaide United in Adelaide last Friday.
- NZPA