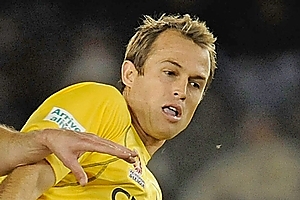 Wellington Phoenix's pre-season soccer campaign goes trans-Tasman for the first time when they play Adelaide United in Adelaide tomorrow night.
The Phoenix had a good shakedown in their 2-1 win against Brisbane Roar in Hamilton last weekend and are looking to further finetune preparations for the A-League season, which they start on August 13 against Gold Coast.
Phoenix head coach Ricki Herbert, who this week extended his contract with the club until the end of the 2012-13 season, said he had been impressed by his team's win against Brisbane.
However, Adelaide will likely prove a tougher proposition.
"It's always a tough trip to Adelaide and we've tended to struggle there," Herbert said.
"But it is only pre-season, so it's a good opportunity for some of the boys to stake their claim without too much pressure."
Phoenix regulars Andrew Durante, Paul Ifill, Chris Greenacre, Ben Sigmund and Mark Paston impressed in Hamilton while newcomer Dylan Macallister made an immediate impact for his new club with a cracking long-range goal.
Trialling strikers Magno Vieira and Auckland's Sean Lovemore showed promise off the bench and will get another opportunity to shine against Adelaide, while Sydney United 21-year-old striker Mirjan Pavlovich will also link up with the squad to trial in Adelaide.
Tim Brown, whose hopes of playing for the All Whites at the recent World Cup were dashed by a shoulder injury, will travel and could get some time on the field.
However, Brown's All Whites teammates Leo Bertos and Tony Lochhead will remain in Wellington to fully recover from minor niggles.
"We'll just carry things on and we've still got some adding to do to the squad," Herbert said.
"Really, it's just about giving the players some time on the pitch and seeing how that goes.
"I'm not too concerned about tinkering with things like formations and it'll be a case of maintaining the status quo because we've got what we've got (in terms of players) and we probably won't play the way we are when the season comes."
- NZPA