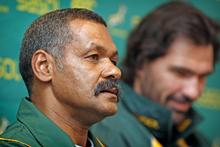 Springbok coach Peter de Villiers has given his side a repeat chance to prove their calibre as defending Tri-Nations champions.
The two changes he has made were forced by injury to prop Jannie du Plessis and the nine-week ban on lock Bakkies Botha.
CJ van der Linde and Danie Rossouw have been chosen as replacements in the pack, with van der Linde leapfrogging prop BJ Botha, who was on the bench at Eden Park.
In hindsight, de Villiers said, tighthead prop van der Linde might have deserved an earlier chance to add to his international tally, after a two-year stint in Ireland.
"I never gave him that rightful chance this year. We expect a lot of him and I think the hunger can just make the difference," the coach said.
Curiously nearby, in the team's hotel foyer, a huge banner hanging from the ceiling espoused words of wisdom from the Boks' former World Cup winning coach Jake White.
"The most important guy in your team is your tighthead prop and your second-most important guy is your reserve tighthead prop," it read.
Captain John Smit said the trick about rebounding in this Wellington test was to alter the side's mental approach, rather than the personnel.
"When you have let yourself down and been beaten properly you have to look back and go back to basics and see what made you a good team and stick to that.
"It does not go pear-shaped overnight, but you have got to revisit the basics which have made you a good team and that's what we have had to do."
Smit thought his side allowed the All Blacks to play and ignored the areas where they had been strong in the past.
"Everywhere we were sleeping, they took advantage. Every chance they had they took."
His erratic lineout throwing was just one example. Smit had not felt comfortable all week with that part of his game and that concern carried through into the Eden Park test.
Tactically, he was unsure how the Boks would play this test - it would depend on conditions.
The Boks could have played more rugby at Eden Park but Smit did not think that tactically they got much wrong.
"It was how we executed our plan. That was our biggest problem.
"It is one thing to kick ball away, it is only away if you don't go and fetch it."
The All Blacks had been far better at Eden Park. They were sharper in most aspects of that opening skirmish.
Discipline was another area where the Boks had to be much more accurate, while concentrated teamwork would be the key to their fate at the Cake Tin this Saturday.
De Villiers said he trusted his side and had underscored that by reselecting all those who were fit.
"They weren't on song on Saturday but they weren't bad, it was just that the All Blacks were very good.
"These boys are much better than what we showcased on Saturday and it is time for them to stand up."
By Wynne Gray

Email

Wynne