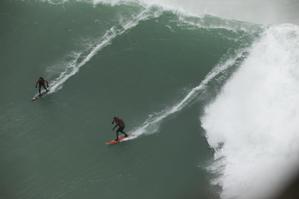 Back in 1999 Kiwi big wave surfer Doug Young laced up his tramping boots, grabbed his surfboard, and walked for five days along the remote Hollyford Track into deepest darkest Fiordland. He was in search of waves - ideally, some of the biggest monsters to hit the New Zealand coast.
"We ended up staying in there 17 days, we lived off the land, it was an amazing mission and I found some amazing waves," says Young.
"I remember thinking, 'I'm five days walk from any sort of help if anything goes wrong.' But in saying that there's this sense of euphoria about being that far away from anyone or anything and riding these pumping waves all by yourself. That inspired my desire to search Fiordland more."
While Christchurch-born Young wouldn't like to say he knows the region - one of the most remote in the world - like the back of his hand, he knows where to find the best breaks and big waves better than most.
And it's this sort of local knowledge that former world champion surfer, Tom Carroll, and his loud-mouth mate, Ross Clarke-Jones, who is one of big wave surfing's true heroes, called on when they headed to New Zealand for Discovery Channel series Storm Surfers: New Zealand.
The show follows the pair as they search for the world's biggest waves. Before coming to New Zealand they had successfully ridden Pedra Banca, a break more than 20km south of Tasmania that had never been surfed before. Then, with the help of Young and maverick surf forecaster Ben Matson, they looked to Fiordland for their next adventure.
"It gets some of the biggest waves in the world purely because the Roaring 40s come in and smack up against that Fiordland coast," says Young.
Family man Carroll, 48, who is a two-time world surfing champ and, safe to say, one of the sport's legends, will never forget his visit to Port Craig at the bottom of the South Island.
"It was some of harshest conditions I've surfed in," he says. "Sideways rain, hailstorms, and the wind chill factor was way down, I have no idea what that was," he remembers with a laugh.
But he loved it, and says it was unique because he felt like he was out in a wild and unexplored place.
"There was that unknown feeling for what was going on. There's a thickness to the water, I don't quite know how to explain it. It just feels heavy."
And why risk your life riding "monsters' like these?
"Good question," laughs Carroll. "I love being challenged. I surfed at all these different levels and this just takes it to another level really. It's satisfying the animal inside me and while that animal is alive I think I'll always do it."
"I used to call it an addiction," says Young with a hoot, "but then I went to university and now I call it a positive preoccupation."
For both, though, it's not just about finding the big one. It's also about getting the logistics and challenge of getting to these remote places.
"Riding a big wave is an amazing feeling," say Young, "but going on missions to find those waves means you get to travel through the most amazing parts of the world. And Fiordland is one of the wonders of the world; the mountains, the waterfalls, the dolphins, there's the biggest crayfish and paua. The biggest everything down there. So it's not just the wave, which is obviously the defining thing, but it's also about getting there."
LOWDOWN
Who: Tom Carroll (pictured) and Doug Young, big wave surfers
What: Storm Surfers, Discovery Channel, Wednesday, 8.30pm