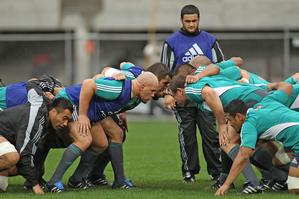 For two teams that have never been shy about playing mind games, the All Black and Springbok camps are anxious to remove any World Cup connotations from Saturday's Tri-Nations test.
With the sharp end of next year's World Cup being played at Eden Park, a win for the visitors could remove any thoughts that the All Blacks have a hold over them when playing in Auckland. The Springboks have not won a test on the ground since Danie Craven dive-passed his way to glory in 1937.
All Blacks assistant coach Wayne Smith did not believe any World Cup gains could be made this far out from the tournament.
"I personally think it is irrelevant. Both teams are going to have a good crack at the World Cup. But not today or tomorrow, that's down the track.
"This has got its own entity. It's a Springboks-All Blacks match with all that that entails.
"It's important for today but I don't know how important it is for the World Cup."
Smith echoed the thoughts of John Smit, who yesterday said that "to become too wrapped up in the World Cup at this stage would be foolish".
Rather than the venue, the biggest factor over the result could be the new law interpretations.
The June internationals saw test rugby freed somewhat from the shackles of last year, but there is still the feeling that when you have two evenly matched teams with a lot at stake, expansive rugby is going to be in short supply.
"But this is a different kettle of fish," Smith said in reference to the difference between the June internationals and the Tri-Nations.
"This is a different test match. This is going to be a high-pressure environment. Hopefully you will see a better game than last year but I still think test match rules are going to apply.
"The team that wins is going to have to play well under that pressure."
On that front the All Blacks will benefit from the injury-enforced absence of Fourie du Preez.
The best halfback in the world and, if you ask the average South African, the best player in the world, du Preez was the master of exerting pressure from anywhere on the park.
A pinpoint kicker out of hand, du Preez can turn defence into attack with his high kicks from the base of the ruck. When defences tire, his running game is deadly.
Ricky Januarie has caused the All Blacks problems in the past, most notably at Carisbrook in 2008, but he can be neutralised.