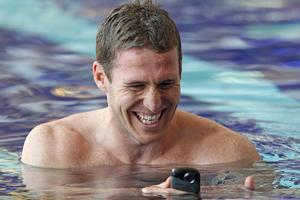 The All Whites have achieved international acclaim for their performances at this World Cup but many of the players can expect individual attention in the form of lucrative contracts.
Playing at the World Cup is the biggest stage for any player.
There's a massive worldwide audience - pre-tournament predictions suggested a cumulative TV audience of 30 billion - and it's fair to assume there will be a host of club scouts in that number.
They are looking for special players - not previously known but also ones who come cheaply by world standards.
Ryan Nelsen, for instance, impressed Blackburn at the 2003 Confederations Cup and he has been with the English Premier League side since. He is arguably New Zealand's best-paid sportsman with estimated earnings of $4 million annually.
"For every player, the World Cup is the biggest shop window possible," New Zealand striker Chris Killen said. "Especially for me, my contract is due to expire next month so, hopefully, it will be a great time for me."
Others are also hoping to impress at this World Cup. Rory Fallon wants to move on from League One outfit Plymouth and play in the Premiership, while fellow striker Shane Smeltz has been linked with a move to Asia and the Middle East and has made no secret of his desire to play at a higher level than the A-League.
Young defenders Winston Reid and Tommy Smith have been impressive since debuting for New Zealand earlier this year.
Even 33-year-old midfielder Ivan Vicelich said he would entertain thoughts of playing professionally again if the right deal came along.
The tournament could be a defining one for coach Ricki Herbert, too. Herbert holds down two jobs as All Whites and Wellington Phoenix coach, although his $50,000 contract with New Zealand Football expires at the end of the World Cup.
His stocks as a football manager couldn't be any higher for what he has achieved with the All Whites and Phoenix and it's safe to assume he will field offers to coach overseas.
It is his time and, if he is serious about going as far as he can, he should leave New Zealand.
Football is a fickle game and there are no pensions.