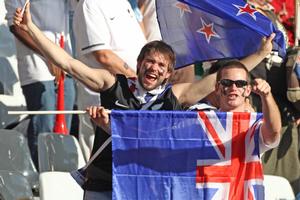 NELSPRUIT - New Zealand fans exploded at the final whistle of their country's 1-1 draw with Italy today, launching a celebration that looked set to continue well into the night.
As the New Zealanders stayed glued to their spots waving flags, a grinning Prime Minister John Key lingered in the VIP box, apparently content to drink in the glory of the All Whites' surprise showing against the defending champions.
Ecstatic fans, some of whom had travelled nearly a full day by plane to be at the match, danced in the aisles after the game, wearing costumes that ranged from head-to-toe white spandex to full-body kiwi bird costumes complete with feathers and beaks.
The New Zealand players took a prolonged victory lap, waving to their supporters. Then, like schoolboys who didn't want the match to end, several returned to the pitch to practice penalty shots.
"It was absolutely incredible," said Mark Aspden as his seven-year-old son sat on his shoulders waving a New Zealand banner to the team.
"I always hoped for the outside chance, but the guys just gave it 100 per cent the whole time. I am so proud."
"This is history for New Zealand," said Ewan Atherton.
"For New Zealand football this is phenomenal. There are going to be kids all over New Zealand who want to play."
Football still comes in a distant second to rugby in New Zealand, which is making only its second appearance in the World Cup this year.
The All Whites lost all three of their matches on their previous appearance in 1982. They scored their first-ever World Cup point by holding Slovakia to a 1-1 draw last week.
But today's draw with four-time champions Italy is one of the greatest moments in football for the country, which isn't used to scoring points on the football pitch.
Fans were still ecstatic over Shane Smeltz's seventh-minute goal even after Italy's Vincenzo Iaquinta equalised off a penalty in the 29th minute.
"We scored a goal! We scored a goal!" chanted Miles Karemacher and his friends after the match.
Karemacher said the draw had made his 22-hour flight to South Africa worthwhile.
"We are loving the World Cup," he said. "We love the Kiwi passion and pride. Never give up, never say die."
Meanwhile, Azzurri blue, which had dominated Mbombela Stadium during the match, drained quickly from the stands as Italy fans brooded over their fifth-ranked team's failure to beat the 78th-ranked All Whites.
Ernesto Lupacchio, an Italy fan from Sorrento, summed up the mood.
"That was not very very nice for Italy," he said.
- AFP