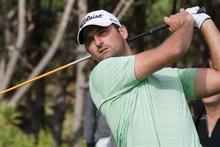 North Harbour professional Michael Hendry, winner of the Muriwai Open, is clocking up the air miles as he boosts his bank balance on the course.
The 30-year-old finished second at the Tauranga Open a fortnight ago, flew to South Korea and back to make the cut for some cash, won the Charles Tour event yesterday by one shot from Auckland pro Richard Lee in a tense finish before heading to the airport to fly back to South Korea for tournaments on the OneAsia tour.
Hendry's form in the $40,000 Rapid Labels event at Muriwai belied his travel schedule. He had rounds of 67, 68, 68 and 68 for a 72-hole total of 271, 17 under par, and never lost the lead.
With three holes to play he was cruising with a three-stroke lead over Lee on yet another relatively fine West Coast day that defied the forecasters.
But on the par-four 326m 16th his drive found a gnarly lie on the right and he rather chunked his second to the raised green. His first chip rolled back down and he had to hole a 3m downhill bogey putt to maintain a one-shot lead over Lee, who had birdied the hole.
They halved the next and Lee sank a snake of a birdie putt from the back of the green to maintain the pressure. Hendry calmly sank a 2.5m putt of his own to clinch the win.
"I was fairly confident with a one-shot lead going down the last but as soon as Richard stood over that putt I knew he was going to hole it. I told myself I just had to hole mine to win.
"This win has given me confidence. It's all about consistency and I believe it's only a matter of time before I win a really big one."
Third, four shots back, was Auckland teaching pro Marcus Wheelhouse. The leading amateurs were Daniel Pearce (Hastings) and Scott Wightman (Mangawhai) in equal fifth at 10 under.
The women's 54-hole event was won by Waikato golfer Emily Perry after a playoff against Aucklander Cecilia Cho.
By Bob Pearce

Email

Bob