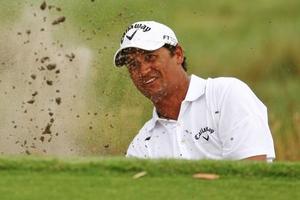 AUGUSTA - Turning to page 11 of the 2010 US Masters Players Guide makes for disappointing reading.
It's the page featuring the only New Zealander competing this year at Augusta National, Michael Campbell.
There's a photograph of a smiling Campbell in the top left-hand corner of the page but all too prominent down the virtual length of the right side of the page is the word `CUT'.
Campbell's Masters Record shows the word CUT on nine occasions from his first appearance in 1996 to last year.
The next is Masters Statistics that again displays the word CUT on nine straight occasions along with fairways hit, driving distance, greens hit and number of putts per round.
The third lot of statistics is Campbell's 2010 European Tour Record. He's played in four events this year and again the word CUT appears on four occasions.
That's followed by his 2010 PGA Tour Record showing Campbell has contested just one event, last fortnight's Arnold Palmer Invitational where he missed the CUT with scores of 80 and 81.
What page 11 of the Players Guide doesn't say is that Campbell, aside from the Augusta first timers, has the worst Augusta record of any of this year's 96 starters.
Also there is no mention that this year's Masters will be Campbell's last under the five-year exemption he earned in capturing the 2005 US Open.
- NZPA