Continuing our series investigating the state of rugby in NZ.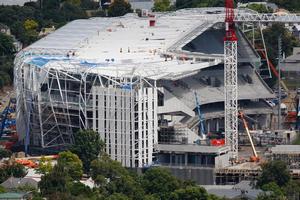 Organisers are confident everything will be ready for the Rugby World Cup kick-off but a quarter of the public disagree.
Rugby World Cup 2011 CEO Martin Snedden has "no doubt" about progress, regardless of the latest political wrangling over "party central" on Queens Wharf and no guarantees that Otago Stadium will be ready.
Mr Snedden said everyone from the Prime Minister down is keen to see the World Cup go off without a hitch and reputations are at stake.
"The Government's reputation is on the line, a lot of reputations are on the line, including mine. A lot of people are motivated," Mr Snedden said.
He said New Zealand world cup development is largely "greenfields" - unlike past hosts France and Australia, who also held the 1998 Football World Cup and 2000 Olympics respectively.
"We have a lot of information from France and Australia, we've gathered information but New Zealand is a small country and unlike the Olympic and Commonwealth Games, we've spread it around the country and that was our choice," Mr Snedden said.
Aside from the America's Cup challenges, New Zealand has not hosted an international tournament anywhere near the size of the World Cup since the 1990 Commonwealth Games.
But Mr Snedden said the whole of New Zealand will be getting behind the World Cup - something that did not happen in France or Australia.
"We'll create something that no one else can replicate," Mr Snedden said.
Dunedin
The largest build is happening in Dunedin with the $198.3m Otago indoor stadium but it may not be finished in time for the world cup.
Mr Snedden said it is "going to go right down to the wire" with the projected finish date only a month out from the start of the World Cup.
"We will be keeping a really close eye on it," he said.
Mr Snedden said the stadium would be a feature of the World Cup if it is finished and there is a lot of people who want to see that happen.
None more so than Otago stadium CEO David Davies, who said Rugby World Cup organisers will make a call at the beginning of next year, just months out from kick-off.
Mr Davies said so far the stadium is on track for completion and within budget.
"However, with a complex construction project such as this, we're in exactly the same territory that everybody else is, and that is an unforseen happening could derail it," Mr Davies said.
He said the construction is up to the top level of the stand - level five - and the main supporting pins were due to go in during late February. The first roof truss will go up in the last quarter of the year and by January 2011 the roof should be on.
However, if the stadium is not complete by the deadline than changes will have to be made to Carisbrook to ready it for the World Cup. Asked what changes would need to be made, Mr Davies said: "Pass at the moment."
Mike Jaspers, a spokesman for Rugby World Cup 2011, said the changes to Carisbrook would be minimal and it only needed "tarting up".
He said the field had to be maintained as a training venue for teams during the World Cup and would only take two months to make it ready for a game.
Auckland
The chair of the regional group for the Rugby World Cup in Auckland, Rachael Dacy, said her city will be ready.
She said Eden Park, the site of the semi-finals and final, is on schedule to be ready by October or November this year at the latest and will be tested with a rugby league double-header and Bledisloe matches before the Rugby World Cup.
Ms Dacy said supporting infrastructure such as the Morningside train station has been completed and the Kingsland upgrade is scheduled to be finished at the end of the year.
"We're making sure the development is done well ahead of time," Ms Dacy said.
A decision on Queens Wharf - billed by the Government as "party central" - has now been made. It will get a simple makeover with no cruise ship terminal.
Four designs unveiled for a Rugby World Cup party zone have been scrapped and the local Auckland councils have all refused to stump up money for the buildings.
The Auckland Regional Council and the Government are looking at cheaper, temporary options for the space.
"Believe me, it's going to happen. In 2011 I'm going to be down there on Queens Wharf partying like it's 1999," Auckland Regional Council chairman Mike Lee said.
Auckland City Council mayor John Banks said he was "over the epithet of party central".
"Queens Wharf will be made available and will be part of party central but it won't be central to the party," Mr Banks said before his council made the decision to pull out.
Mr Snedden said it was good to have a decision but the wharf is not essential to the World Cup.
"It is only one component of downtown Auckland," Mr Snedden said.
He said the Auckland waterfront will be ready with the area stretching from the Wynyard quarter - or tank farm - to the Viaduct Harbour and Britomart.
The poll was carried out between January 29 and February 10. It had a sample of 600 and a margin of error of +/- 4 per cent.
Round the country:
Whangarei $18.5 million multi-function events centre scheduled for completion later this year.
North Harbour Stadium to add temporary seating.
Auckland's Eden Park redevelopment scheduled to be finished later this year.
New Plymouth's Stadium Taranaki $1.7m upgrade to be finished this year.
Nelson's $1.7m Trafalgar Park upgrade due to be finished by August this year.
Dunedin's Otago Stadium under construction and due for completion by the beginning of the Rugby World Cup.
Ticked off the list:
Hamilton's Waikato Stadium completed in 2002.
Rotorua's International Stadium.
Napier's McLean Park $7.9m upgrade completed last year.
Palmerston North redevelopment completed in 2005.
Wellington's Wellington Regional Stadium, known as the Cake Tin, built in January, 2000.
Christchurch's $60m upgrade with new Deans stadium and a capacity of 40,000 opened this year.
Invercargill's Rugby Park Stadium redeveloped in 2001.