Continuing our series on the state of rugby in New Zealand.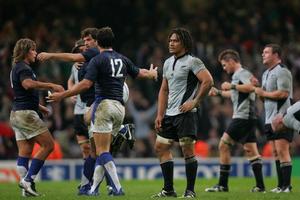 Kiwis are confident that, 24 years on from their last World Cup triumph, the All Blacks will win on home turf, according to an nzherald.co.nz poll.
Of 600 people questioned, 59 per cent picked the home side to win the final at Eden Park next year.
The next closest team picked to take top honours was South Africa, a long way behind on 17 per cent. No other team inspires much fear in the New Zealand public it would appear - just 5.3 per cent thought Australia would win, 3.9 per cent England and 3 per cent France.
Social psychologist Professor Graham Vaughan said the result could be a mixture of patriotism and a belief in the home ground advantage.
Prof Vaughan said he recalls similar enthusiasm about an All Black victory in the lead up to the 1995, 1999, and 2003 World Cups, none of which materialised.
He said research carried out in the US shows that home advantage does increase the chances of winning, especially in basketball.
"The support of the home crowd is a major factor and could be the difference in a key match," Prof Vaughan said.
He said survey respondents could have understood the home ground phenomenon.
But the other factor could be patriotism.
"No matter how many times we get hammered, when we get close to World Cup time, we seem to pick it up again," Prof Vaughan said.
"In terms of history, New Zealand's optimism seems to recover," he said.
Prof Vaughan said if people make a psychological commitment to the All Blacks - for example, laying a bet - then their expectation for a win increases.
"But the true fan is going to be committed. I'm sure if you ask some of the old All Blacks who will win, they'll say: Mate, it's our sport," he said.
Former All Black captain Stu Wilson said he tends to be "a bit cool" in his assessments.
"Former All Blacks, they know a little bit about the game, the mental stress of the job, what goes on behind the scenes and the expectations of the game. I would have thought 59 per cent is pretty good at the moment.
"Most Kiwis are pretty blind with their loyalty to the black jersey, they just say: 100 per cent," Mr Wilson said.
Prof Vaughan said the support rate for the All Blacks to win is high but would likely be lower if the sample only included people knowledgeable about rugby.
"My feeling is that, if they were dedicated rugby followers, they would be a bit more conservative," he said.
Wilson said 59 per cent is a good base of support after one round of Super 14 rugby and two years before the World Cup.
"The end of year tour will be the gauge, when we've got the boys in a squad that can carry on into the next year," Mr Wilson said.
He said South Africa will be the test after they beat the All Blacks three times last year.
Wilson said the All Blacks will have the home advantage and have every chance of winning but a win at home is not the pinnacle.
"The sign of a good side and a good playing country is if you can win a World Cup out of town. Australia have done that, England have done that and South Africa have done that. That's tough, when you've got to spend six weeks in some other guy's backyard."
The poll had a sample of 600 and a margin of error of +/- 4 per cent.