Continuing our series on the state of rugby in New Zealand.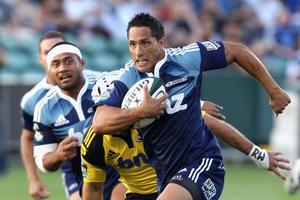 More than half the public think the Super 14 starts too early according to a new poll, but there seems little chance the tournament's summer kick-off will be moving any time soon.
This year's Super 14 season kicked off on a hot night at North Harbour stadium on February 12, while the Black Caps cricket team prepared to take on Bangladesh in a test match and a full two weeks before the Australian cricket team was due to arrive for their tour.
The results of a Herald DigiPoll of 600 people found 51 per cent of people thought that was too early in the year.
The New Zealand Rugby Union's commercial manager Paul Dalton said the poll result is consistent with past research.
"While there's a big group of fans for whom the competition can't start early enough, it's fair to say most would prefer a later start," he said.
"We have acted on this feedback so that in future, in other than Rugby World Cup years, the competition will be starting late February to early March," Mr Dalton said.
He said watching rugby in February has its benefits.
"So far the signs are positive that people are ready for a great season of Super Rugby in 2010 and we saw that in the fantastic crowds at North Harbour and in Christchurch last weekend," Mr Dalton said, referring to the games in week one of the competition.
Rob Nichol, chief executive of the New Zealand Rugby Players Association, said the preference is for a later start.
"In an ideal world, we would like to see Super 14 start in the first week of March. We all tried to get that but with the schedules and fitting the four nations in with Argentina, etcetera, etcetera, we've had to compromise and go for the last weekend of February," Mr Nichol said.
He said a compacted provincial competition with two tiers will condense a 15-week competition into 11 weeks and allow the Super 15, as it will be then, to start later from 2012 onwards.
At least one supporters' representative has a more radical solution. Dick Taylor, Canterbury Rugby Supporters Club president, wants the Super Rugby competition scrapped entirely in World Cup years to allow players to build up their strength.
"Give everyone a rest and so they come into the World Cup ready to go," Mr Taylor said.
He said the start of the Super 14 has to be February with all the rugby that has been fitted into the calendar.
Auckland Rugby Union Supporters Club president Barry Cave said the Super 14 season is long but fans are ready for rugby.
"It showed in the crowds this weekend by the large turn-outs," Mr Cave said.
Wellington Rugby Supporters Club president Graham McGuire agreed and said: "there is no other window of opportunity".
He said the season has to begin in February unless the number of Super Rugby teams is cut.
"You can't hook the All Blacks out and it does start early but that is the nature of the beast, but everyone you talk to says rugby starts too early," Mr McGuire said.
The poll was undertaken between January 29 and February 10. It had a sample of 600 and a margin of error of +/- 4 per cent. Asked if the Super 14 starts too early, 51 per cent said 'yes', 29 per cent 'no' and 19 per cent 'don't know'.