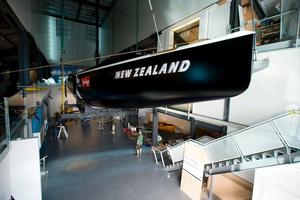 After two and a half years adrift in a sea of uncertainty, Team New Zealand can finally begin to plot their way forward as they await the details of the next America's Cup to be confirmed.
The Auld Mug is now back in the hands of the Americans for the first time in 15 years after BMW Oracle completed a 2-0 sweep of Alinghi yesterday to win the contentious series.
The 33rd America's Cup was a rare best-of-three, head-to-head duel because the two sides were unable to agree on the rules for a traditional regatta involving multiple teams.
But BMW Oracle boss Larry Ellison has promised a multi-challenger event for their defence - news welcomed by Emirates Team New Zealand operations manager Kevin Shoebridge.
"It's good news for us because finally it gives us a little bit of clarity. After two and a half years of waiting we're finally on the road again," said Shoebridge.
"Watching Larry Ellison in his press conference this morning he was talking about getting the show on the road quickly with a multi-challenger event.
"So he's making the right noises straight away, that's for sure, and we look forward to knowing in the very near future what the plan is."
It is expected Ellison will reveal in the next couple of days his plans for his team's defence. But he was forced to admit yesterday that Italian syndicate Mascalzone Latino will be the challenger of record, after it was leaked to media over the weekend.
There are also rumours floating about over the venue and timing of the next event. Yachting commentator Peter Lester said at this stage the smart money is on a 2013 regatta with Newport, Rhode Island, San Francisco or San Diego the most likely venues.
"The significance of that is it will be 30 years since America first lost the America's Cup, and 30 years of Louis Vuitton's involvement with the America's Cup, so there is some nice symmetry there," said Lester.
Wherever the cup is next sailed, Ellison has promised a multi-challenger event free of the infighting and litigation that has marred the just completed Deed of Gift match.
"We've made no decision about venue and no firm decision on date. We do have a challenger of record and one thing I'd like to assure everybody about the 34th America's Cup is that there will be a completely independent jury, there will be completely independent umpires, it will be an independent group that manages the next America's Cup.
"It will be a level playing field for all competitors," Ellison said to loud applause in the post-race press conference in Valencia.
Once the format of the next event is known, Shoebridge said Team New Zealand are in a position to launch straight into their preparations.
"We already have a full programme in place for the sailing team this year anyway, it's more about when the design team will get together," Shoebridge said.
"If they are going to come up with a new class of yacht, you actually have to have that rule in your hand before we can start, so things like that will govern when we get back up to speed.
"The main thing for us is we've managed to stick together for the last two and half years and survive and we're basically still intact as a functioning America's Cup team, so we're ready for any scenario."
Team New Zealand have a busy year lined up with the Louis Vuitton World Series and MedCup set to keep them occupied on the water.
The Louis Vuitton regattas, the next of which will be staged in Auckland next month, are certain to play a pivotal role in the build-up to the 34th America's Cup.