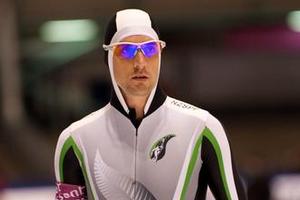 The New Zealand contingent is raring to hit the ice, snow and slopes with top-ten finishes in their sights at the Winter Olympics kicking off in Vancouver on Friday.
A team of 16 will represent New Zealand in alpine, freestyle and cross-country skiing, speed and short track skating skeleton, snowboarding and biathlon at the Games, which run from February 12-28.
The snowboarding contingent of five is New Zealand's largest at an Olympics. There are high hopes for good performances in the halfpipe, with Juliane Bray a key name in the mix.
Bray, 34, has a solid international record, having finished 16th in the halfpipe at the 2006 Olympics in Torino, and, more recently, coming fifth in a World Cup event in Stoneham, Canada, last year.
New Zealand officials also hold out hopes for skeleton racers Ben Sandford - who finished 10th and was New Zealand's highest finisher in Torino - and Tionette Stoddard - who has produced top 20 finishes in her last six World Cup races.
Canada-based Sarah Murphy has grabbed a slice of New Zealand Olympic history before even starting her event.
The 21-year-old is the first New Zealander to be selected for the Olympic biathlon, a sport combining rifle shooting with cross-country skiing.
New Zealand's chef de mission for Vancouver, Peter Wardell, said he was confident New Zealand could hold their own at the Games.
"A number of our athletes have had top-ten finishes in World Cup events, so that means that they're in that top quartile in their competition," Wardell said.
"We're not saying, 'Look, we've got the number one-ranked athletes, we're coming for medals'. We're confident our people will do a fantastic job and if we get them in the top quarter of their fields that will be fantastic."
However, Wardell did not rule out New Zealand's medal chances entirely.
"All the athletes like to think they're medal prospects, and, really, anything can happen. Take skeleton for example. The difference between the fastest people and our people is only a few seconds so if we slide slightly better and they slide slightly worse, suddenly that gap becomes that much less."
He recalled an occasion at the 2002 Games when Australian Steven Bradbury won gold in the short track speed skating after the four leaders collided and fell over, while Bradbury, who had been in last place, avoided the pile-up and came in first.
"In these sports anything can happen. But if we get people in the top 10, top 25 or so, depending on the sports, we'd be absolutely delighted."
Wardell, along with a support crew, arrived in Vancouver late last month to begin preparations for the athletes, who began arriving from February 4 and were all due in Vancouver by tonight.
The team are based in two separate Olympic villages, with the alpine athletes staying at Whistler and the remaining members in Vancouver.
"It'd be much easier for us if they were all in one place and probably for them. If they were all in one place they'd have a lot more fun together because they're one team, but that's the way it is," Wardell said.
"We have a very special day together (tomorrow) when the local Squamish people are giving us a traditional welcome, and we're the only team who's receiving that, so that's just great.
"That's been set up over the past 12 months through connections between the Squamish people and the local Maori."
With most athletes based in North America and Europe before the Games, bringing the team together has been a challenge for Wardell, whose previous Olympic experience included a trip to Beijing last year when his daughter Rebecca competed in the heptathlon.
"It's definitely a different experience. In one way the athletes are a lot more split up, but we've only got 37 people in total, including all the support and coaches, so it's easier in a way to unite everyone -- we'll get to know each other much better I think than at the other Games."
Wardell said not all the athletes would have the opportunity to get together during the competition, but that they would all be encouraged to support the other New Zealanders in their spare time and once their own events were completed.
However, New Zealand spirit was far from in short supply, Wardell said, with many ex-pats ready to welcome the team.
"There're a lot of Kiwi connections here. Lots of Kiwis and Aussies live here or have been down through New Zealand, so if they see us walking round with our silver ferns on they'll all say hi and welcome. It makes you feel fantastic as a Kiwi," he said.
Wardell said he expected the local New Zealanders to come out to support their countrymen during the games.
"I think we'll get lots actually. We've already been in contact with quite a few New Zealanders who are up here and we'll keep in touch with them and encourage them to come along. It'll be good."
- NZPA