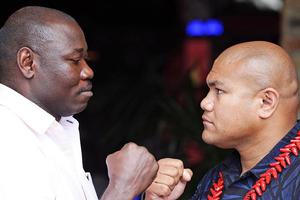 David Tua's next fight against Friday 'The 13th' Ahunanya will take place at Waitakere's Trusts Stadium in Auckland.
The March 31st bout will be Tua's first fight since knocking out fellow Kiwi heavyweight Shane Cameron at Mystery Creek last October.
Tua will put his WBO Asia Pacific and Oriental heavyweight belts on the line against the US-based Nigerian, who has been sparring with former heavyweight champion Hasim Rachman and Samuel Peter in preparation for the fight.
Duco Events promoter David Higgins said after years of calling for the fight, Ahunanya is relishing the chance to take on Tua.
"Friday is looking in peak physical condition - he's got a lot riding on this bout," he said.
"Since they first sparred together in 2001, Friday 'The 13th' Ahunanya has called David Tua out numerous times. The Kiwi heavyweight has never responded - until now."
Ahunanya was responsible for Cameron's first career defeat here in 2007 and he has never been knocked out.
"One of the greatest power punchers in boxing history will be confronting a technically accomplished boxer with a formidable defence," Higgins said.
"Can Tua knock Ahunanya out or will it go the whole distance like virtually all of Friday's previous fights?"
General admission tickets, which will be available from February 8 will be limited to 3,000.
- NZ HERALD STAFF