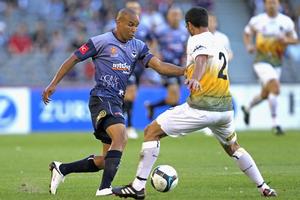 Wellington Phoenix's hopes of claiming a top-four place with tonight's A-League soccer match were dashed as Melbourne Victory crushed them 4-0.
The defeat in Melbourne marks the Phoenix's second straight loss after they were beaten 2-0 away in Perth on Friday.
A win for the Phoenix would have moved them into fourth place on the table, almost certainly securing them a top six, playoff spot with just three rounds remaining.
After a relatively even start to the game, Wellington had a lucky escape in the 11th minute when Melbourne's Rodrigo Vargas hit the crossbar.
However, the visitors appeared to lose their luck minutes later when Tim Brown conceded an own goal in the 16th minute.
A cross from Melbourne's Carlos Hernandez off a free kick skimmed Brown's head as he tried and failed to deflect it.
The teams maintained relatively equal possession for the remainder of the half and went into the break with Melbourne leading 1-0.
Melbourne stormed into the second half, widening the scoreline quickly.
After Wellington's Paul Ifill lost the ball in midfield, Melbourne striker Archie Thompson grabbed control and slipped the ball past goalkeeper Liam Reddy to move his team two ahead in the 50th minute.
Wellington coach Ricki Herbert made two substitutions in the 64th minute, with Leo Burtos and Adrian Caceras coming on for Eugene Dadi and Ben Sigmund, but they failed to slow Melbourne down.
Two minutes later Hernandez slotted the ball to the left of Reddy to make it 3-0, and in the 87th minute Matthew Kemp put yet another goal on the board for Melbourne to take the final tally to a disheartening 4-0.
- NZPA