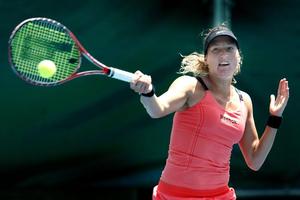 It is the racket outside the stadium that is causing Russian starlet Maria Kirilenko the most concern ahead of today's women's Classic quarter-final against Shahar Peer.
Kirilenko yesterday breezed through to the quarters with an impressive 6-2, 6-3 win over Estonian Kaia Kanepi. But her elation at making it through was tempered by the fact that her next opponent has attracted noisy protesters during the opening two rounds.
Demonstrators yesterday ramped up their campaign against the young Israeli player's participation in the ASB Classic, disrupting the early action on day three of the tournament.
The group, Global Peace and Justice, led by veteran protester John Minto, gathered behind court four outside the ASB Tennis Centre chanting over a loudspeaker for Peer to withdraw from the tournament.
The noise could be heard across the venue and was clearly audible to the 3000 spectators.
But protest appeared to have more of an adverse affect on Peer's opponent than it did on the young Israeli.
Perhaps egged on by the protesters' chants of "go home Shahar" and "blood on your hands", Peer blitzed her Slovakian opponent Magdalena Rybarikova 6-1, 6-0 in the first match of the day.
Rybarikova clearly lost her composure in the face of the outside distractions, and Kirilenko is eager to ensure she does not suffer the same fate today.
"There were some crazy people outside the courts screaming things at Shahar and I think it disturbed her opponent today."
Kirilenko said she would be mentally prepared to cope with the off-court distractions but was hoping her focus will be such that she does not notice the protesters.
"I think when I'm playing I don't really hear the noises from outside, I try to concentrate on each point. Sometimes if my coach says something I don't hear it because I'm too concentrated."
Yesterday's protest was so loud that play was suspended during the changeover between sets in Peer's match against Rybarikova. The match was delayed about 10 minutes while the 21-year-old Slovakian pleaded with tournament officials to delay the proceedings.
Shortly after play resumed the protesters were moved on, with one arrested, but Rybarikova said by that stage her concentration was gone.
"I was very angry and because of that I played very bad and I was not concentrated," said Rybarikova.
Tournament director Brenda Perry said complaints over the level of noise had been received from spectators within the venue and the players, and so police were called.
While there is no way of preventing the protest group from turning up again today, as they have promised, Perry said the police would be on standby.
Peer, who attracted protests on a visit to Auckland last year, said yesterday was the worst she had met.
"It was not [nice] today, but as long as I am winning, I don't really mind."