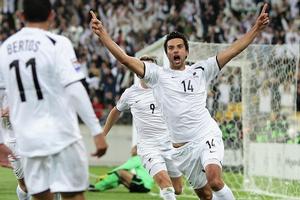 A World Cup warm-up soccer match between New Zealand and Australia has been ruled out.
New Zealand Football (NZF) chairman Frank van Hattum urged the Socceroos to consider a pre-tournament bragging-rights game after the two sides learned their fates for the finals in South Africa.
However, NZF chief executive Michael Glading told Radio Sport there was no chance of the match eventuating as Australia's schedule heading into the June tournament was already full.
A clash against Mexico in Los Angeles on March 3 has already been confirmed, and Glading said preparations for New Zealand's World Cup build up were almost complete.
The club was waiting for several European countries to confirm warm-up matches in May, following the team's altitude training in Europe.
New Zealand secured their place in this year's finals with a 1-0 aggregate win over Bahrain in November.
They face Slovakia, Italy and Paraguay in the group stage.
- NZPA