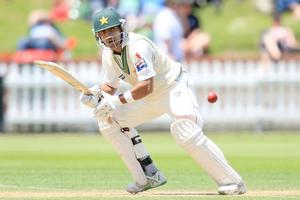 The master handed over the responsibility for guaranteeing Pakistan's survival to the apprentice at McLean Park yesterday, offering New Zealand hope of securing a rare test cricket series victory.
When 85-test veteran Mohammad Yousuf failed to convert his 31st test fifty into a substantial three figure score after the rain cleared and shadows lengthened, New Zealand was offered a glimmer of hope heading into the climax of the third and final test.
Yousuf's dogged captain's knock of 89 - a complete contrast to counterpart Daniel Vettori's breezy 134 composed over the weekend - could yet prove in vain if New Zealand can remove current batsmen Umar Akmal and Misbah-ul-Haq early then prey on a longish Pakistani tail.
Pakistan were to resume their final innings on tour at 347 for four today - on paper a respectable score had they not been facing a 248-run deficit.
They lead by 99 and to deny New Zealand a tilt at a gettable fourth innings run chase it seems imperative 19-year-old Umar improves significantly on his 48.
A centurion on debut in Dunedin, the teenager is the series' leading run scorer - though his job is far from done.
Once Yousuf walked before his caught behind dismissal was confirmed, Umar was destined to play a major role in the final instalment of a fluctuating series.
Impetuous by nature - he got off the mark with a six, a ball after being centimetres short of recording the first `pair' of his three-test career - Umar regularly gives the bowlers a chance.
Daryl Tuffey was unlucky when a catch fell just short of Chris Martin but New Zealand take heart from Umar's reluctance to be constrained.
He scored his first 24 runs at a strike rate of 100 - prompting Yousuf to remind Umar of the game situation.
Now Misbah, another 35-year-old, is charged with keeping Umar under a modicum of control - at least until lunch.
He resumes on four from 22 balls, an indication he is ready to settle in for the long haul.
Umar slowed appreciably since the pep talk from his skipper, especially when refusing to launch into Martin Guptill's gentle - though effective - offspin.
But he was still guilty of the odd loose waft as stumps loomed and Iain O'Brien strived to add to Yousuf's scalp.
Faisal Iqbal, who made a patient 67 from 170 balls, said the dogged fifth wicket stand so far worth 14 needed to balloon out if Pakistan were to save the game.
"Everything depends on the morning session," he said.
"The way Misbah and Umar batted (yesterday) showed if they hang there for two hours we'll be in a good position.
"Yousuf's wicket was important but Misbah and Umar are in good form, good shape and they're definitely going to take responsibility to take the team through."
Meanwhile, Guptill, an unlikely bowling hero, felt the odds were stacked in the home side's favour if they dislodged Umar and his brother Kamran.
"If we can pick up another couple of wickets we're into the tail and they're right under the pump," said Guptill, whose analysis of two for 28 represents the best figures of his test, first class and club career.
His part time spin worked a treat in removing Pakistan's openers though it is legspinner Danish Kaneria who could loom as a threat if New Zealand are intent on breaking an eight-test winless streak in Napier.
Guptill might not play a significant role in the remainder of Pakistan's innings, though bowling remains a priority for New Zealand's No 3 batsman.
"I've bowled in a couple of one-dayers and Dan (Vettori) reckons I'll end up with 50 one-day wickets," he said.
"I'll keep working in the nets and hopefully play a part in a few games."
- NZPA