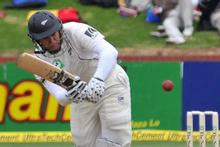 It's an affliction Tim McIntosh and Daniel Flynn would happily accept in the test cricket series against Pakistan, but New Zealand's leading batsman Ross Taylor admits to be irritated by a new tendency to get out when a century beckons.
Taylor has twice been denied a third test ton of the year against the Pakistanis, with his powers of concentration wavering at University Oval and the Basin Reserve.
The only New Zealand batsman to score consistently against the tourists, Taylor played a loose drive on 94 in Dunedin and was caught at slip off the bowling Saeed Ajmal, the offspinner who tempted him into a similar shot in his previous over.
Then, in Wellington, Taylor was motoring along, taking toll of the Pakistan attack until he buttoned off in the 90s and tried to glide a ball that ended up in Misbah-ul-Haq's hands at first slip.
Taylor exited for 97, taking any hope of New Zealand mounting a successful run chase with him.
Until this year Taylor has had little difficulty converting substantial starts into three figures. Until his brain fade in the first test the 25-year-old had never fallen in the nervous 90s in his 21-test career.
Against India at the start of the year he compiled 151 and 107 in back-to-back tests at Napier and Wellington to carry his tally to four test tons - a number he seemed certain to expand.
But a flaw in his powers of concentration emerged during August's tour of Sri Lanka.
"It actually started back in Sri Lanka, I got a 90 in the first innings of the first warm-up game and I haven't been able to break three figures since then," he said.
He made 81 in the second test in Colombo, but was caught at the wicket via another edge from a slow bowler -- Ragana Herath.
Taylor has discussed how to clear this mental obstacle with his batting mentor of the past 2-1/2 years, Martin Crowe.
"It is disappointing and the next time I get it that situation I'd like to put it to rest and get to three figures."
Crowe has at least successfully addressed some minor technical deficiencies in Taylor's set-up, given his protege has amassed 280 runs in the series at 70, dwarfing the input of the other specialist batsmen.
"I've been working on a few things with Hogan (Crowe) and it's been working for me," he said, explaining the key was not get trapped crease bound but to get forward and look to be aggressive.
"In the (Wellington) game the only thing I really wanted to do was get forward and to attack Danish Kaneria early."
And it was mission accomplished with three of his five sixes slammed off the legspinner.
The challenge now is to continue fronting New Zealand's batting unit on tomorrow's third and final test at his McLean Park, his home ground where his talents usually flourish.
Taylor crafted his maiden one-day century there in December 2006, a majestic 128 not out against Sri Lanka. More recently he has March's 151 against India to reflect on.
Overall he has made 277 runs in three tests on McLean Park at 55.40, well in excess of his 42.71 career average.
"I'm happy with my form but missing out on a hundred is getting annoying.
"At the end of the day it's just a number but cricketers make it a special occasion of getting to three figures."
Other than taking in Crowe's advice, Taylor might also be advised to try and block out the crowd reaction should he again venture into the 90s in this test.
He wasn't put off his stride in the Basin by the Pakistanis sledging him from the slips cordon.
"It was actually one person in the crowd that yelled out," he said.
He said 'Look, he's on the same score as Dunedin'. I heard it, it was some Pakistani yelling it out in the crowd."
- NZPA
By Chris Barclay