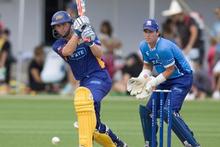 Otago captain Craig Cumming is convinced the path back to the national side has been blocked because the selectors consider him over the hill.
The 34-year-old opener said yesterday his on-again-off-again international career now appeared over after he was overlooked for the third test against Pakistan in Napier starting tomorrow.
In the wake of another dismal failure by the ailing Black Caps top order, the selection panel of Glenn Turner, Mark Greatbatch and Daniel Vettori opted to make just one change for the decider, with Canterbury's Peter Fulton axed for Northern Districts opener BJ Watling.
Cumming said he received a courtesy call from Greatbatch prior to the team being named and was told he had been passed over for Watling.
"They went with BJ Watling because they see him as more of a player for the future, which means that I'm obviously not," Cumming said.
"I asked them three weeks ago if my age comes into consideration when they have a selection meeting and was told, 'No'. Now it appears it does because they don't see me as a player for the future."
However, Cumming did not feel it was an employment issue or that he was being discriminated against because of his age.
"It is no different from how teams have been selected in the past. Saying you are not a player for the future is just a new reason not to be selected."
Asked if he thought the door was closed, Cumming responded: "It has to be. I don't get younger every day.
"They've never asked me how long I have left. You've got guys like Bondy [Shane Bond] and Chris Martin who are older than myself and are still performing well. As long as the body and the mind is willing, you never know [how long you can continue]."
While Cumming is much closer to the end of his career than the start, the right-hander was one of the best batsmen in the domestic four-day competition last summer, scoring 784 runs at an average of 65.33.
In his first-class career to date, Cumming has scored 7154 runs at 36.13 including 16 100s and 33 half centuries. Watling, who is the latest throw of the dice by the selectors, has scored 2155 runs at 30.35.
Both have been in good nick in the Plunket Shield this season. Watling has 242 runs at 80.66 and Cumming 288 at 57.60.
"Statistics don't tell the whole story," said Cumming. "BJ is a good player and has played very well over the last four years but my stats were good enough to have me as the next cab off the rank."
- OTAGO DAILY TIMES
By Adrian Seconi