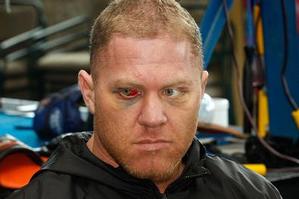 Heavyweight boxer Shane Cameron is looking at a programme of five fights next year as he seeks to revive his career.
In October, Cameron's ambitions of a world title shot were dealt a serious blow when fellow New Zealander David Tua stopped him in the second round of a one-sided contest in Hamilton.
Manager Ken Reinsfield said today that the comeback would start in Melbourne in mid-March against an opponent yet to be confirmed.
"I'd like to see Shane fight five fights next year," he said.
"If he gets through them well, maybe six."
Possible venues for the other bouts include the United States and New Zealand.
Cameron's defeat to Tua left him with a record of 23 wins and two losses, which Reinsfield noted was similar to John Ruiz's 25-2 in March 1996 before the American was knocked out by Tua in just 19 seconds.
Ruiz was later to hold the WBA heavyweight crown and is about to have another shot at the title when he fights David Haye.
"This is not the end of Shane Cameron," Reinsfield said.
"This is a new beginning and he's going to be back stronger."
The Cameron camp also announced the appointment of a new trainer in Australian Barry Michael, a former IBF world super featherweight champion, to replace Lolo Heimuli.
Reinsfield said the change was not a reflection on Heimuli, who had been "outstanding", but Michael brought with him a lot of experience, having fought 60 times in his own career, and was noted for turning out boxers with an aggressive style.
"That's what we want to see in Shane -- that come forward, knock people out style."
Cameron, 32, is in the middle of mandatory three-month stand-down period because of the knockout he suffered.
It has given him time to have plates and screws removed from his right hand, which was operated on before the Tua fight.
Cameron, who has been cleared to do weights from today and will be able to punch with the hand again early next month, was adamant that his career was far from over.
"I've had only two losses and two losses is nothing," he said.
"It's important for me to come back stronger in 2010 and have these five fights and five wins. Then we're talking serious business again."
Cameron added that he had recovered well from the Tua bout and would have fought again this year but for the stand-down and the removal of the plates.
"It's not given me any grief like it has done in the past," he said of the hand.
"Come March, I'll be boxing with both hands. I'm looking forward to getting back into the ring and showing what I've got."
- NZPA