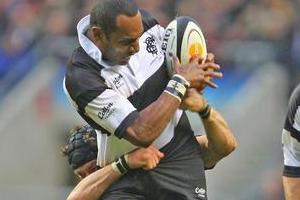 Joe Rokocoko admitted he could barely watch the All Blacks performing the haka but proudly chalked up his own piece of rugby history at Twickenham this morning.
The 60-test All Blacks winger achieved the rare feat of beating his former team, less than three months after he last played a test for them, in the Barbarians' 25-18 upset.
It was a surreal experience for the Fijian flyer, unwanted for this tour after scoring a try in his previous test against the Wallabies in September.
He hadn't played a match for six weeks, apart from some touch footy on a beach in Fiji, and he said it was difficult to face ka mate, led by Tamati Ellison.
"I didn't stare face to face with the boys, I just veered off and looked to one side and the other side. It was just intense, something I haven't experienced, but a good experience," he said.
During the match he got precious few chances to shine as his fellow winger Bryan Habana bagged three tries.
Rokocoko said match eve was a special experience when former Lion Derek Quinnell addressed the team and they were played videos of previous Barbarians matches including the epic 1973 match, the All Blacks' only previous defeat to the invitation side.
The dressing room catch-cry before kickoff was to make history, with a star-studded lineup including test captains Victor Matfield and Rocky Elsom.
"I'm glad I'm part of the history of Barbarians rugby, they've won against the All Blacks and I can talk to my kids about it."
Rokocoko, who was told to improve his kicking and high ball skills by the All Blacks coaches, said his performance in this match wasn't important.
He didn't want to try too hard as he marked rising star Zac Guildford in what proved an even battle.
"I just took it as a game and I wanted to win like any other player. I can understand what the guys are going through.
"We just played really well and got them off guard, seven weeks away from home can take a toll.
"We just had an awesome week, socialised really well and got to know each other. All we wanted to do was bring a bit of attitude."
Now Rokocoko was looking forward to returning home and ripping into pre-season training with the Blues ahead of next year's Super 14, where he'll hopefully give the coaches a further reminder of what they're missing.
- NZPA