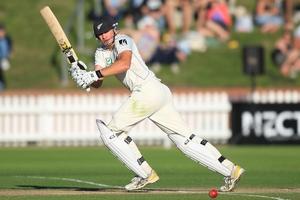 Pakistan teased New Zealand with their own batting calamity before comfortably reasserting control of the second cricket test on day three at the Basin Reserve here today.
Pakistan's second innings folded between lunch and tea for 239 -- seven wickets toppled for 42 runs -- though it barely offered a glimmer of hope to a New Zealand side who only managed a meagre 99 in their first visit to the crease yesterday.
The equation to create history and a series win was set at 405, and by stumps it remained an ambitious target after New Zealand again proved injudicious strokeplay was contagious on a blameless pitch.
New Zealand were 70 for three at the close, 335 adrift. The only consolation being Ross Taylor's continued presence at the crease.
If New Zealand are to complete the fourth highest successful run chase in test history and eclipse their previous best pursuit of 324 for five against Pakistan at Christchurch in 1994, much will rely on New Zealand's only in-form batsman.
Taylor was not out 15 and Peter Fulton has 12 though both had lives on 13 and three respectively as Pakistan's catching woes continue.
With two days remaining, yet again the exploits of a weary bowling attack -- deprived of first test hero Shane Bond -- appear destined to go unrewarded.
Chris Martin and Iain O'Brien added four wicket hauls to Daryl Tuffey and Daniel Vettori's identical returns in the first innings.
Martin improved from 0-44 to four for 52 as Pakistan deteriorated, O'Brien bristled with aggression throughout to record four for 66 -- sterling service considering the duo barely had their feet up between bowling assignments after New Zealand's first innings lasted only 36.5 overs.
Medium pacer Grant Elliott also made a belated and inspired arrival in the 72nd over, having Shoaib Malik and Kamran Akmal caught behind with his fifth and sixth deliveries.
Martin also found himself on a hat-trick with the second new ball by ending captain Mohammad Yousuf's stout resistance after a failed leg before wicket appeal was overturned. Tailender Danish Kaneria then snicked to Taylor at slip.
Yousuf produced the only bedrock innings of the day -- and one New Zealand's remaining batsmen will need to emulate if Friday's third test in Napier is not to be a decider.
Yousuf took his time making 83 from 200 deliveries, a top score and 30th test fifty made between the 17th and 86th overs.
With the benefit of a 229-run advantage when play began, Yousuf and Misbah-ul-Haq were in no hurry.
Since combining late yesterday they added 77 for the third wicket in 35 overs at a snail paced 2.20 runs per over.
O'Brien was instrumental in accelerating Pakistan's scoring rate. Misbah's demise caught at the wicket for 33 was the catalyst for the continuation of Umar Akmal's stunning debut series.
Only five boundaries were recorded in the 23 overs before the 19-year-old arrived and instantly set about mangling Daniel Vettori's figures.
The New Zealand captain conceded just 21 runs from his first 17 overs; Umar then proceeded to crack 27 from Vettori's next four through a trio of boundaries, brace of sixes and three singles.
Umar passed fifty for the third time in his four-test career in just 32 balls though his audacity got the better of him a ball later when a lofted drive was collected by Vettori retreating at deep mid-off.
He thudded his pad in disgust but still has the consolation of 302 runs in the series at 75.50.
Pakistan also feature the series' leading wicket taker after Mohammad Asif added three more top order scalps to take his collection to 15.
For once Asif not Mohammad Aamer made the early breakthrough when Tim McIntosh's torment continued with a plumb leg before wicket dismissal for two -- a ball after he survived another concerted appeal.
New Zealand at least avoided losing a wicket in the first over -- in Dunedin an opener departed in the first and fourth balls; Guptill made a a fifth ball exit yesterday.
McIntosh and Guptill negotiated 11 balls before they were separated when the score was four, their highest stand so far.
Asif also dislodged Guptill for 15 when he edged a drive on to his stumps while Daniel Flynn's struggles continued when was caught behind by Kamran Akmal for 20.
SCOREBOARD
Pakistan
First innings 264
New Zealand
First innings 99
Pakistan
Second innings (64-2 overnight)
I Farhat c Fulton b O'Brien 35
S Butt c Taylor b O'Brien 18
M Yousuf lbw b Martin 83
Misbah-ul-Haq c McCullum b O'Brien 33
U Akmal c Vettori b Martin 52
S Malik c McCullum b Elliott 3
K Akmal c McCullum b Elliott 0
M Aamer c Guptill b Martin 9
U Gul c Fulton b O'Brien 1
D Kaneria c Taylor b Martin 0
Mohammad Asif not out 0
Extras (4b 1lb) 5
Total (all out, 86.3 overs) 239
Fall: 49 (Butt), 54 (Farhat), 131 (Misbah), 197 (U Akmal), 210 (Malik), 210 (K Akmal), 230 (Aamer), 239 (Yousuf), 239 (Gul)
Bowling: C Martin 19-4-52-4, D Tuffey 16-3-45-0, I O'Brien 21.3-4-66-4, D Vettori 25-11-63-0, G Elliott 5-1-8-2
New Zealand
Second innings
M Guptill b Asif 15
T McIntosh lbw b Asif 2
D Flynn c K Akmal b Asif 20
R Taylor not out 15
P Fulton not out 12
Extras (5b 1lb) 6
Total (for 3 wkts, 33 overs) 70
Fall: 4 (McIntosh), 36 (Guptill), 37 (Flynn)
Bowling: M Aamer 6-1-19-0, M Asif 11-5-19-3, D Kaneria 9-3-8-0, U Gul 7-2-18-0
- NZPA