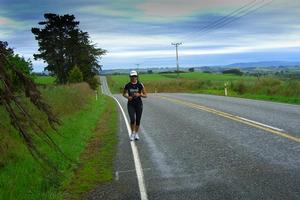 Ultramarathoner Lisa Tamati, five days into her epic run from Bluff to Cape Reinga is now coping with hallucinations, brought on by sleep deprivation.
The New Plymouth woman is running approximately 2,200km in 33 days or the equivalent of 52 marathons, from Bluff to Cape Reinga.
Yesterday, while running 70km to Oamaru, she reports having her first hallucination - a sensation she knows from previous ultramarathons like the Badwater event - a 215km run through Death Valley in the US, which she finished earlier this year.
"I really struggled through the morning session," she reports in her daily blog. "I was asleep on my feet for the first couple of hours. I had my first hallucination today as I imagined a giant elastic band stretched across the road and I just could not seem to run through it."
Realising she was in trouble, Tamati's support team took her off the road for a 10 minute sleep, then up again to start 'power walking.'.
"After a while I was actually feeling human again, yet I was not making good time today, so we knew we were in for a long day on the road," says Tamati.
The team eventually made Oamaru at 5.15 - making it 11.5 hours on the road.
A priority for Tamati is now ensuring she gets enough sleep.
"The best sleep I have had so far is 6 hours," she says "It's just not enough, if I don't get good sleep, the hallucinations will become more frequent. That's one part of the ultra running I am scared of..."