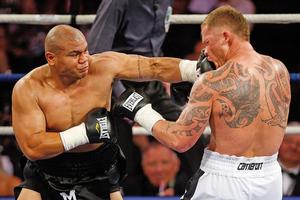 Boxer Shane Cameron today indicated his determination to rise "from the bottom of the heap" after his devastating defeat to fellow New Zealand heavyweight David Tua.
Cameron, 31, lasted just one and a bit rounds in Hamilton last Saturday as Tua unleashed his intimidating punching power.
While Tua, 37, can look forward to the prospect of a shot at a world title, Cameron, who was ranked No 7 by the World Boxing Organisation, knows he has suffered a huge setback.
"We're at the bottom of the heap now so it's time to climb our way to the top," he said.
"It was a hard loss. I came into this fight confident I was going to win but David caught me good in the first round and I never recovered."
The "Mountain Warrior" said the most disappointing aspect of the fight was that he had not been able to show his goods as a fighter.
"My boxing ability, I didn't display that at all," he said.
"That makes me even more eager to come back and display what I have."
Despite the manner of his defeat, Cameron still hasn't given up on his dream of one day challenging for a world belt.
"Hopefully, I can move forward and fight for the title," he said.
"I'm certainly not counting me out. I'm still here. I'm ready to go and I'll do what needs to be done."
Cameron said he had been able to come back from his one other defeat, a final-round technical knockout against Nigerian Friday Ahunanya in Auckland in November, 2007.
After that upset loss, Cameron strung together four consecutive wins before facing Tua.
"I've had to work my way back before," he said.
"There's no doubt I can come back and be in a serious position."
Against the "Tuamanator", Cameron was knocked down twice in the opening round.
Referee Bruce McTavish, from the Philippines, finally stopped the contest seven seconds into the second round after Tua was throwing unanswered punches at will.
The TKO result means Cameron has a mandatory three-month stand-down period before he can fight again.
He was due to have some down time anyway to remove titanium plates inserted in his right hand after he aggravated an injury on his way to stopping Robert Davis in Gisborne in March.
Cameron defended the decision of manager Ken Reinsfield and others in his corner to let him back out for the second round.
"Kenny asked me some questions and I answered them fine," he said.
"I'm a warrior, a fighter. I don't give into nothing. If I have to go out, I go out."
Cameron was taken to hospital after the bout as a precaution.
He was checked over, was given the all-clear and returned to his hotel.
Three days after the fight, he said he felt all right.
"Obviously a couple of black eyes, but that's about it."
Reinsfield was also confident that Cameron still had a promising future ahead of him.
"Shane is young and plenty of people, including David Tua, have said he's a quality fighter," he said.
"I have no doubt Shane will come back. Where that will be and what we intend to be doing, that's something I've got to be working on for the next couple of weeks."
- NZPA