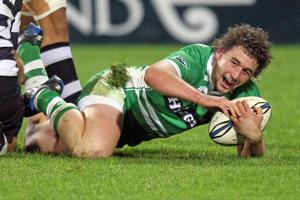 A player, trainer and coach have all been suspended from rugby for between three and eight weeks for verbally abusing match officials in two separate games last weekend.
Manawatu fullback Kurt Baker and the team's trainer Paul Hamson were charged with misconduct for allegedly verbally abusing assistant referee Zarne Johnson in an Air NZ Cup match between Hawke's Bay and Manawatu in Napier on Saturday.
Baker was also charged with allegedly threatening Johnson.
Hamson's conduct towards Johnson was such that the second assistant referee, Bruce Dockary, felt it necessary to intervene.
Both Hamson and Baker denied making the comments but NZRU judicial officer Bruce Squire was satisfied that both were guilty of misconduct.
Hamson was suspended from all rugby for three weeks and fined $300, while Baker - who had used threatening words towards Johnson - was suspended from all rugby for eight weeks.
Four weeks of the suspension have been deferred for a year, providing he does not commit further foul play or misconduct within that period.
In Heartland Championship rugby, King Country coach Brett Coombe was charged with misconduct for allegedly verbally abusing match officials in a game between South Canterbury and King Country in Timaru on Saturday.
Coombe admitted the charge, acknowledged that it was unacceptable and produced a letter of apology he had written to assistant referee Grant Day. He expressed remorse for his conduct and felt he had let his King Country union down.
Coombe was suspended from all rugby for four weeks and fined $300. Two weeks of the suspension has been deferred on condition that he does not commit any further misconduct or breach of the laws of the game within the next 12 months.
King Country centre James Hemara was suspended for two weeks for an alleged dangerous tackle on South Canterbury halfback Sekope Maea in the first half of the same match.
Squire found the tackle was dangerous but there was insufficient evidence to satisfy him that Maea had been driven into the ground.
Hemara's previously unblemished disciplinary record meant a discount in the period of suspension.
- NZPA