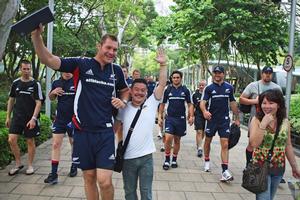 The All Blacks have pulled out of playing a Bledisloe Cup match in America next year, citing concerns too many tests are blighting performances.
By pulling the plug on negotiations for a clash in Denver, the New Zealand Rugby Union have signalled they need to scale down the national team's commitments.
Last year, the All Blacks played 15 tests and a game against Munster and their commitments in 2009 are almost as major, with 14 tests and a clash against the Barbarians.
Before last night's match, the All Blacks had won 17 of the 23 tests played since June 2008 - a success ratio of 73 per cent, well down on the 89 per cent achieved by the current coaching panel between 2004 and 2007.
The NZRU has expanded the fixture list in the past two years for commercial gain, as the offshore Bledisloe tests and some of the European tour clashes have been worth millions of dollars.
While the money has rolled in, the NZRU now believe they no longer have the depth of player resources to take on such demanding schedules.
There are fears the stretched programme is taking too big a toll on the players and their ability to sustain the All Black legacy. The thinking now seems to be that fewer tests might lead to better results - which is bad news for the US.
Having struck a memorandum agreement to promote and help USA Rugby, the NZRU have been in talks to play a Bledisloe Cup clash in Denver for two years.
The Colorado city was the frontrunner to host this year's fourth encounter until Tokyo intervened with a better financial package.
American rugby executives were hopeful they would host a fixture this year but have now been told about the NZRU's fears. They also believe the Australians were asking far too much money.
Reverting to a policy of 'less is more' will present the NZRU with a dilemma about next season.
They have been scheduled to play three of the Home Unions - Scotland, Ireland and Wales - in November and chief executive Steve Tew has previously said they intended to chase a Grand Slam by arranging a game against England.