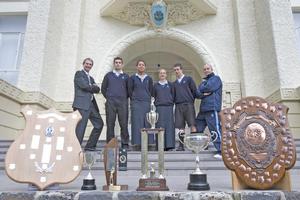 Mt Albert Grammar's "give youth a chance" academy policy is paying dividends.
In a surely unprecedented clean sweep of major winter titles, the school celebrated five titles in eight days, capped by Saturday's 45-11 win over Auckland Grammar in the 1st XV rugby championship at Eden Park.
Major championships are often the domain of big single-sex secondary schools but MAGS headmaster Dale Burden takes real pride in pointing out that his decile seven school, now fully integrated as co-educational after 77 years as "boys-only", is able to match it with the country's best.
The rugby triumph, against the odds after being fourth of the four qualifiers for the semifinals and needing to knock off the top two teams - St Peter's College and AGS - to claim the 1A championship, followed successes earlier in the week for their boys and girls soccer teams and their premier and senior A netball sides, who beat EGGS 31-28 in both finals.
For the Kevin Fallon-coached soccer team it was their 10th title in the 12 years since he established his soccer academy at the school.
"Some people point to our academies as the reason for our success," said Mr Burden. "But these are aimed only at the junior - year nine and 10 - school and most of their work is done outside normal school hours with much of it before school.
"Of the 2300 pupils here - 1000 girls and 1300 boys - between 50 and 60 per cent play sport."
MAGS have academies for soccer, rugby (boys only), cricket, basketball, athletics and netball.
Soccer is the most popular, with 15 teams and netball has a similar number. At the other end of the scale, the school has just one league team but has four playing underwater hockey.
MAGS also won two Auckland touch titles and has their girls and boys basketball teams through to next month's premier championship semifinals. All sports will now chase national honours at next week's annual winter tournament.