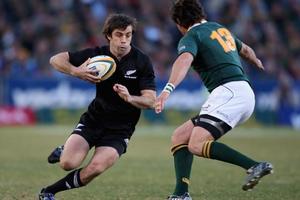 Thirty-three years after another All Blacks midfielder made rugby history in Bloemfontein, centre Conrad Smith nearly stole the show in yesterday's 28-19 Tri-Nations loss to South Africa.
In probably the best display of his 27-test career, Smith pulled off some splendid bootlace tackles, threw himself into rucks and looked the most dangerous New Zealand attacker.
The high point was his world class try in the 47th minute which sparked the All Blacks' rearguard.
Receiving the ball 25 metres out, Smith stepped inside Jean de Villiers and fended off Morne Steyn before breaking clear. He kept the defence at bay with a dummy and body shift before another fend, on JP Pietersen, and crash over the line in Francois Steyn's tackle.
For some in the crowd it evoked memories of second five-eighth Joe Morgan's match-winning try in the second test defeat of the Springboks at the same ground in 1976.
A rugby historian of reasonable note, Smith claimed little knowledge of the Morgan try.
One similarity was that it came from a planned move, with first five-eighth Stephen Donald cutting out second five Ma'a Nonu to give Smith a half-chance. "It's something we have practised a bit, they like to come in on Ma'a when he runs those lines and I just sat back and it worked out well - but we needed a couple more [tries]," Smith said.
The Wellingtonian outplayed opposite Jaque Fourie who reportedly described himself as "still the best centre in the world", during the leadup.
Fourie did get the last say, scoring a match-winning try that left a flat Smith believing New Zealand had let victory slip after hauling back from a 17-3 deficit.
"We were pretty gutted," he said.
"At four points down I felt we could have pushed on and won it. We have done it in the past and come back from deficits like that and it felt like we were going to do it again but you probably can't keep relying on that all the time. We need to start leading from the start.
"In the whole of that first half it sort of felt we were in our own 22 but then I thought we were playing really well and got ourselves into a good position, it felt like the momentum has shifted our way."
Smith's namesake, All Blacks assistant coach Wayne Smith, couldn't speak highly enough of his No 13.
"He's a big player defensively because he scrambles so well and he's so committed," he said.
"He had a really good game in attack. We know he's a class player and he just keeps proving it."
- NZPA