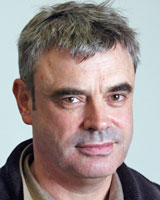 It's been a week of the bold, the blindingly obvious and the fanciful for sports quotes, starting with the latter.
* Black Caps coach John Bracewell is retaining his humour until the bitter end, so it seems. This isn't a reference to his tongue-in-cheek claim that Stephen Fleming could contemplate a return to the national side because "once he starts changing nappies at 4am he may see the light again ... " Instead, it was his analysis of his top order batting that brings a smile.
"Three months ago we didn't have a one, two or three. Now I think we've got a one and a two [Jamie How and Aaron Redmond] ... "
Pardon? Aaron Redmond is a converted spin bowler who has played three tests, has a highest score of 28, and an average of nine.
As for Fleming, this idea that padding up for New Zealand is preferable to putting padding on the baby in the wee hours might cause the dapper former leader to splutter all over his perfectly ironed chinos.
While the rugby union arranges million-dollar sabbaticals for its star players to keep them in the ranks, the ex-cricket captain gets threatened with soiled diapers. Life just ain't fair, although India's generosity in the cricket pay department is doing a decent job of balancing the scales.
* Predictions bring either minor gain or loads of pain in the media game. The good ones are expected, but they'll beat you over the head with the bad ones.
I reckon I've discovered the boldest sports prediction ever - John Hopkins of the Times claims Tiger Woods will not win the US Open at Torrey Pines this week and suggests that the world No 1 by such a long way that no one cares who is second won't even make the cut.
The reason for this rash prediction is that Woods is making a comeback from arthroscopic knee surgery in mid-April.
Calling against Woods ain't one of the great hunches, especially on a course where he has had so much success. Hopkins may even have looked at his online column and thought 'wonder if I should have made that one?'.
Modern surgery is so clinical and precise - it's not as if a blood-splattered Victorian-era maniac just took to the knee with a hacksaw. But as bold predictions go, it is a beauty and all power to Hopkins for making it.
However, Woods' fellow golfers appear to have greater faith in modern surgery, or maybe they've just seen it all before with this golfing machine. As one of them said when asked what it would take to win: "Whatever Tiger shoots, normally."
* All Black assistant coach Steve Hansen is bang on with his claim that Richie McCaw is the greatest No 7 and thus pips Michael Jones. Good on Hansen for putting his neck on the block, although the timing is suspicious and hardly what McCaw might enjoy.
It's almost sacrilege to put anyone on the same rung as the gazelle-like Jones. I'd go further, and say McCaw should be ranked alongside Colin Meads as our greatest All Black. No player has ever married high skill to the warrior spirit like McCaw, and he's done it in rugby's most brutal era where the laws ask the impossible of openside flankers, the best of whom make it possible.
The outbreaks of accepted thuggery of old are nothing compared with the legitimate, constant battering the modern players receive.
McCaw's strength is in his total contribution but the Cantabrian will never be able to match the thrilling and contrasting sights of the elegant Jones and the granite-like Meads charging with the ball in hand. And to many minds there will never be a match for Meads, and Jones will be the most revered of No 7s. These debates are what sport is all about.
As for Hansen's timing though - another matter. Choosing the opening test of the season against Ireland is hardly the place on which to bestow such a high accolade and all it might do is set McCaw up for a fall. Talk about piling the pressure on.
Methinks a bit of reflected glory is a welcome, self-administered tonic by this under-pressure All Black panel. Both the bold and the fanciful there.
* "Is it time to panic?" the former Kiwi captain Hugh McGahan asked in his newspaper column, after the Warriors lost to Souths at what is becoming the inappropriately named Mt Smart Stadium.
McGahan has a glittering and unique place in the Kiwi game - he was once voted the joint international footballer of the year and has coached in the Sydney first grade.
With all that history behind him, McGahan knows the answer. These Warriors fold like the New Zealand batting if Steve Price and Brent Tate ain't there - it's time for Warriors fans to haul out the stored water and scurry into the nearest bunker.
I wrote after the third-round humiliation against a regulation Manly performance that the bonds between coach Ivan Cleary and some of his players would have been stretched already. They are now well and truly broken and Cleary will also be questioning his own judgment.
The Warriors need to rebuild already, because they will get nowhere with the current mob. And blending new blokes into the lineup, like the promising Russell Packer, will bring a few mishaps before there is a payday. Is it time to panic? Too right it is - nothing fanciful there.
Mind you, the showbiz must go on. The club website reveals that the Warriors will go head-to-head with WWE wrestling stars at the stadium today. You might have thought that hanging around with blokes who make pretend tackles would have been bad for the reputation, but those wrestlers never worry about what other people think of them.
* Former England captain Mike Atherton on our Black Caps: "Other than Bangladesh and Zimbabwe, there has not been a flimsier batting team to visit these shores in the past 20 years."
This sneaks into the blindingly obvious category. Interestingly, Atherton appears to have overlooked that we have found the future of New Zealand's top order batting and his name is Aaron Redmond.
* "I don't want to answer these stupid questions any more. I want to win everything, I have no preference." Tennis superstar Roger Federer, on being asked by a reporter what his response would be if a "little fairy" landed on his shoulder and offered him the choice of winning the French Open or Wimbledon.
It wasn't clear whether Federer was answering the questioner, or whether this is what he would say if a little fairy did give him the choice. But if Federer really believes in yelling at mystery visitors on his shoulder, he's got more than Rafael Nadal to worry about.
This whole thing is fanciful ... time to bail out.
By Chris Rattue

Email

Chris