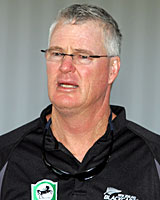 LONDON - Coach John Bracewell has been on too many cricket tours of England to take umbrage at what's being written about his side this week.
"I've been coming here since 1983 and New Zealand teams have been coming here a lot longer than that, with the same assessments," Bracewell said of the English press.
"They just open up the file and pull out the same stuff."
Even England star Kevin Pietersen managed to mention New Zealand in the same breath as lowly Bangladesh yesterday.
The three-test series starting here at Lord's on Thursday is a hard sell for the English scribes and, it appears, the players, as the more marketable South Africans loom after New Zealand return home.
Fresh from their 2-1 series win in New Zealand, England are short-priced favourites against an inexperienced touring side with Aaron Redmond and Daniel Flynn eyeing their debuts and teenager Tim Southee his second test.
But veteran cricket writer Scyld Berry did not hold back in reminding the tourists of their place in the world in the Sunday Telegraph newspaper.
"Why on earth are England playing New Zealand in the first place?" he asked.
"Indigent cousins have to be looked after, but to play them from February until the end of June is too much of a bad thing.
"To contest the Ashes next summer England now need opposition far more fibrous."
It seemed tailormade wallpaper for the New Zealand dressing room at Lord's.
Berry continued: "...there will be something seriously wrong with England, or the weather, if the hosts do not win this series 3-0.
"New Zealand will be overwhelmed by the occasion at Lord's, by the pace and bounce at Old Trafford and by the swing at Trent Bridge."
Pietersen, meanwhile, said New Zealand were a much under-rated side with few stars but "quality" batsmen and bowlers.
"Teams like Bangladesh, they don't have any world stars but they pull out victories every now and then and play some pretty good cricket," he added.
Pietersen was asked more questions about facing his native South Africa than New Zealand at yesterday's media session.
He gladly obliged, but checked himself when asked if there was a danger of England getting too far ahead of themselves.
"I've said that because we're talking about players performing against good opposition.
"We're not even talking about South Africa yet, we're talking about New Zealand and we're wanting to beat them well."
So would he be unhappy with anything less than a 3-0 series win over New Zealand?
"I haven't won a test match at Lord's since I started playing for England, so 2-0 will be great. I'm not banking on winning here, a draw is what we normally get at Lord's because it's such a flat wicket."
Bracewell was not concerning himself with any damning assessments yesterday as his players strolled the hallowed turf for the first time on tour.
Team unity has been the main box to tick for Bracewell in the past fortnight, with captain Daniel Vettori, Brendon McCullum, Jacob Oram, Ross Taylor and Kyle Mills all joining the tour late from the Indian Premier League.
Bracewell dismissed any suggestions of division.
"We've got a reasonably happy and settled unit who stayed in the country for the last two games which means there's been a lot of socialising together which has increased the integration.
"The guys have been looking forward to this event rather than supposedly dreading it.
"... you've got to be prepared for it (tension) just in case. I wasn't expecting any, there wasn't any."
- NZPA
By Mark Geenty