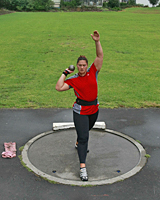 Athletics New Zealand followed through with warnings of a tough selection stance, naming an Olympic team of eight yesterday but leaving out two runners who have bettered the qualifying standards.
Marathon runners Michael Aish and Liza Hunter-Galvan will not be going to Beijing, a decision which drew flak from some in the athletics fraternity.
But the sport's selection convenor, John Bowden, was unapologetic for enforcing a policy which said meeting the qualifying times would not be enough and performances at major events would count too.
"I suppose it was difficult because they had done A standards but in our policy there was a wide range of issues we had to address ... one of those being we look at past performances."
Their names were not put forward as nominees to the New Zealand Olympic Committee, an uncompromising policy which the NZOC praised.
"Athletics New Zealand made the call early on that they would only select athletes who made the A standard and not only that but meet it consistently and in major events," said secretary-general Barry Maister.
"That is a difference from some other sports' attitude - not only have you got to make that hurdle, but you've got to demonstrate where it matters. We value that highly."
At the top of the list of selections is the sport's superstar, world champion shot putter Valerie Vili, who will attend her second Olympics although she is just 23.
Others making their second Olympic team are Nick Willis (1500m), Stuart Farquhar (javelin) and Kimberley Smith (5000m and 10,000m). Making their debut will be Adrian Blincoe (5000m), James Dolphin (200m) and Nina Rillstone (marathon). At the other end of the scale is discus thrower Beatrice Faumuina, bound for her fourth Games.
Three endurance athletes (50km walker Tony Sargisson and marathon runners Scott Winton and Jonathan Wyatt) have until April 27 to push their case for inclusion through performances in international races.
A further six unnamed athletes have dispensations because of injury and will have until June 30 to prove themselves.
Dolphin, who had a top season running an A standard time and several B standards, said he was delighted to finally get the call to say he was in the team. "It's good to be able to focus on what needs to be done between now and August," he said.
The 24-year-old will train in Auckland before heading to Europe in June for a series of races.
Asked to outline the team's prospects, Bowden said he hoped they would come home with one medal and three other top-16 finishes.
As to whether Vili was a gold-medal certainty, he said: "I would be silly to say that. I can't speak on behalf of Val but she is the current world champion indoor and outdoor. It's going to be a joy to watch her throw."
The decision to leave out Hunter-Galvan and Aish in particular stirred debate on the running website, nzrun.com.
Aish twice ran faster than the qualifying standard of 2h 15m. But his record in the New Zealand singlet has not been good, including 17th places in his heats in the 5000m at Athens and the 10,000m at Sydney. He finished last at the 2007 world championships in the 10,000m.
"My heart goes out to you guys," said one posting to the website. "Hopefully you can come back and show the selectors what a massive mistake this has been."
Aish himself also posted to the messageboard saying: "It's easy to see when you're not wanted.
"This is the first time I would have run the marathon, and my marathon record is not too bad as I'm getting faster every time I line up.
"I'm betting that Jono [Wyatt] will make the team even if he runs a 2:15.00 - it all depends on who you are ... "
NZ TEAM
* Adrian Blincoe (5000m)
* James Dolphin (200m)
* Stuart Farquhar (javelin)
* Beatrice Faumuina (discus)
* Nina Rillstone (marathon)
* Kimberley Smith (5000m and 10,000m)
* Valerie Vili (shot put)
* Nick Willis (1500m)
Faumuina finds fresh focus for fourth Olympics
An emotional, hour-long heart-to-heart conversation was the turning point which set Beatrice Faumuina on the path to her fourth Olympics.
The 1997 world champion discus thrower was yesterday named in the New Zealand team for Beijing, a selection which was by no means a certainty given her disappointing performances at the Osaka world championships last year and the Commonwealth Games in 2006.
The 33-year-old admitted yesterday that she returned from Osaka unhappy and knowing that she had to make changes if she wanted to stay in the sport.
She revealed that the decisive moment came when long-time mentor and west Auckland athletics administrator and coach Ross Dallow sat her down in the Trusts Stadium in Henderson when she returned from the world championships.
"The last thing I wanted to talk about was what happened in Osaka but when things don't go well you need to. That hour was a tough one, but needed to be done," said Faumuina.
Following the conversation, Dallow took over coaching her, with the help of his son, former decathlete and Winter Olympian Matthew Dallow, and fitness and weights trainer Eric Espinassy.
"We found there were things that we could change in training," she said. "I've had a new focus and different direction and it's nice to have that."
Under the eye of her coaching team, Faumuina made changes to her technique, a switch which took a few months to pay dividends. Early in the season, she was throwing less than 60m - well below what would have been expected if she was to make the Olympic team.
But at the national championships last month, she reached 61.73m and another two over 60m, her best since throwing an A standard in February 2007.
Athletics NZ selection panel convenor John Bowden said it was that performance which clinched her selection.
"I think Beatrice was under pressure at the nationals and she showed the panel that under pressure she performed and that's all we can ask of all our athletes," said Bowden.
Faumuina said she had gone into the competition feeling good, and was not fazed.
"From the couple of weeks leading into nationals I knew I was ready."
Between now and August, she will compete in Osaka and Maui, Hawaii, in May, but will otherwise base herself in Auckland.
As for her goals at the Olympics, she is keeping them to herself.
"The environment I'm in now is so positive. You always want to do well if there's people working with you."
MAJOR CHAMPIONSHIPS SINCE 2004
* 2004 Olympics, Athens: 7th, 63.45m
* 2005 World Track & Field Championships, Helsinki: 4th, 62.73m
* 2006 Commonwealth Games: 4th, 59.12m
* 2007 World Track & Field Champs, Osaka: 13th in qualifying, 55.75m
By Eugene Bingham

Email

Eugene