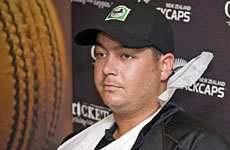 Former New Zealand wicketkeeper Adam Parore isn't quite gloating "I told you so", but says he was right when he voiced his concerns over troubled cricketing sensation Jesse Ryder's attitude.
Parore was strident in his criticism of Ryder's selection when he was named in the Twenty20 and ODI squads last month, claiming the 23-year-old's attitude and fitness was not up to the requirements of international cricket.
Ryder's response, 196 runs at 49 in his maiden one-day series, forced Parore to digest his own words and issue various public apologies - but his concerns were legitimised, off the field at least, after the opener's antics before and after the fifth and final ODI last weekend.
Not only did Ryder suffer a serious hand injury when he punched the glass panel of a bar toilet early Sunday morning, revelations soon followed about the abuse of accident and emergency department staff at Christchurch Hospital.
It then emerged Ryder had also been out drinking the night before the match until 1.30am.
Ryder fronted the media on Tuesday, apologising for his behaviour and vowing to tidy up his act.
"I take no pleasure out of getting something like this right," Parore told RadioSport today.
"It does point to a history of self-destructive type behaviour and it's really sad because as we all know now, the kid can play."
Parore said Ryder impressed with his batting during the 3-1 series win over England, he also seemed to provide the perfect foil for Brendon McCullum.
The pair combined for at least 50-run stands in four of the five ODIs - two reached triple figures in Hamilton and Christchurch.
"I think the fact that's been missed is not only can he play a bit, he's added 20-30 per cent to Brendon McCullum's game at the other end - that's the difference between winning and losing a lot of games," Parore said.
"The real tragedy about Jesse's meltdown is it jeopardises that relationship with Brendon."
Parore said while Ryder had apologised to the bar owner, hospital staff, team management and the public at large, making amends with his teammates will prove a significant challenge.
"A lot of these guys have gone into bat for Jesse and backed him to the hilt. Brendon is really happy to have him, Daniel Vettori had never clapped eyes on him a month ago and he's bought into it.
"The damage he has done with those sorts of guys - it's hard to repair that sort of stuff. They've said he's a great asset in the side and he's s*** on them."
- NZPA