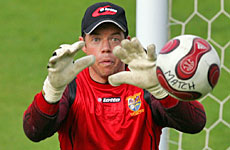 Four dropped points in two outings has not made for pretty reading as Waitakere United prepare not only for tomorrow's New Zealand Football Championship clash with ever-likely Hawkes Bay United but two vital O-League matches.
Goalkeeper Simon Eaddy returns from his one-match suspension to bolster Waitakere for tomorrow's match at Fred Taylor Park but coach Chris Milicich is still without striker Commins Menapi who will miss this one, the O-League encounters in Tahiti next weekend and the crucial derby clash with Auckland City four days later.
Waitakere have dropped three points off the pace they were setting not long ago, giving City a handy buffer with just eight rounds to play.
Hawkes Bay have Cole Peverley back from suspension and Dean Johnstone comes in for the injured Sam Jenkins in an otherwise unchanged line-up from the team who battled their way to a scoreless draw against Waikato three days ago. As an added incentive, the Bay boys head north chasing their first away point against Waitakere.
Auckland City's away game with Canterbury United shapes as the biggest mismatch of the season but one Colin Tuaa will want to make sure of as he too contemplates a busy schedule.
While there is some hope Greg Uhlmann and Joel Mathews might come into the reckoning once their injuries have been reassessed, Tuaa has in the meantime named an unchanged squad after Wednesday's 2-0 home win over Team Wellington.
He is still without James Pritchett, golden boot contender Bryan Little, Rupesh Puna, Riki van Steeden, Luiz Del Monte, Craig Wylie and Keryn Jordan but that should not matter against a team who have lost nine on the trot and would happily spend their weekends some place else.
Even home advantage does not give new coach Korouch Monsef any added hope for a team who have scored less than a goal a game and leaked almost three.
They secured their two points from draws in second and fourth round outings.
Team Wellington have struggled to maintain their firecracker start to the season but still remain comfortably in third place and in playoff contention.
They are back to Newtown Park after a home game in Porirua and should be good for the points against Terry Phelan's Otago United who are still rejoicing after their midweek 1-1 draw with Waitakere. Wellington coach Stu Jacobs has stayed with the players who battled bravely against Auckland City as he chases the win they need to post their highest points tally (28 in 2005-06) in a championship season.
Phelan too has stuck with the same squad for the trip to the Capital where Otago have yet to win.
Like other weekend match-ups, this is the first of three meetings between the two sides this season.
The real dogfight could be in Hamilton on Sunday where Waikato FC will attempt to find the back of the YoungHeart Manawatu goal.
The only goals they have scored in their last five outings came in the 3-1 home win over Canterbury last month but against the team with the second-worst defensive record (after Canterbury), Waikato must fancy their chances.
Manawatu need at least a point from the game to stay ahead of Waikato on the points table.
By Terry Maddaford

Email

Terry