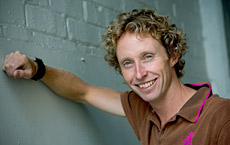 Hamish Carter is walking away from triathlon with one regret - not for himself, but the sport.
The 2004 Olympic champion would have had a prized world title medal to add to his gold gong from Athens in his 15th and final crack in Lausanne last year had race winner Britain's Tim Don been tossed out after avoiding three out-of-competition drug tests before the championships.
His win stood, however, leaving Carter with a remarkable record of seven top-five finishes, but no gold. Carter is sore about that, but not for reasons of personal glory.
"I'd put a really good race together and the only guy who beat me shouldn't have been racing at all," Carter said last night after announcing his retirement from the sport.
"I didn't win on the day, but for my sport it feels like it's a really black mark and taints us all. I believe most of the guys in our sport are very clean. If drugs make an impression in triathlon they'll destroy it."
That would hurt the 35-year-old Aucklander whose life has revolved round the event since switching from rowing in his late teens.
His record speaks for itself. From his first triathlon at Whangamata in 1991, Carter has played a significant part in the rise in popularity of the sport in New Zealand.
Just as he, at 8, drew a lifetime of inspiration from watching John Walker's 1500m gold medal run at Montreal in 1976, so Carter became a hugely influential figure for young triathletes. He was for several years the best on the planet.
Of all his victories in what he estimates to be about 100 triathlons, the Athens gold will always shine brightest. He headed off fellow New Zealander Bevan Docherty in one of New Zealand sport's great days, two Kiwis striding side by side on a sweltering morning to a 1-2 finish.
And Carter's abiding memory of the day is when he reached the blue carpet, about 60m from the finish, looked over his shoulder and realised Docherty could not catch him.
"There was nobody between me and the finish tape," he said. "It had the Olympic rings on it and [I realised] it was going to happen. Fifteen years of my life went into those 60m.
"It was one of those experiences so massive and powerful that every time I think about it, it gives me goosebumps."
Four years earlier, Carter, then world No 1, was a shattered man, finishing 26th at the Sydney Olympics. He resolved to get back, devised a plan, changed his approach and it worked.
"The key to success is failure. If I didn't have Sydney to wallow in, I wouldn't have won in Athens. It was the worst day of my life, but one of the most important," he said.
Carter is glad he didn't retire straight after Athens, and has enjoyed his last two years of racing, admitting he relished being the bloke "who won that big race" and was able to help his sponsors get some value on their investment.
Making the decision to retire was difficult but winning a World Cup race last year crystalised the problem he had.
"When I came across the line I didn't feel the same buzz. It was 10 levels below what I'd experienced in Athens."
When he was approached around Christmas to join 2006 Hi-Tech Entrepreneur of the Year Rod Drury and his Xero company, specialising in online accounting systems for small and mid-sized businesses, the timing was right. He sat down with his wife Marisa and advisers, including his coach Chris Pilone.
"They all said, 'This is it'. Chris said, 'Do you want to go to Beijing [the 2008 Olympics]? I said, 'Not really' and he said, 'Why are you racing any more?' That broke it down for me."
A new challenge awaits a man who has never had a real job. But as Sydney and Athens proved, he's not shirked challenges in the past.
He reckons he leaves the sport in top shape. For which he can take a decent share of credit.
By David Leggat

Email

David