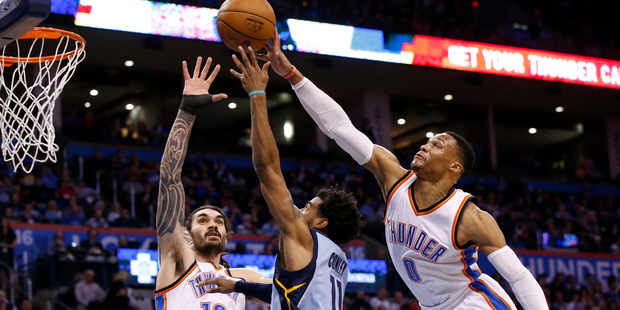 Russell Westbrook posted his 18th triple-double of the season and got enough support to guide the Oklahoma City Thunder past the Memphis Grizzlies 103-95.
Westbrook finished with 24 points, 13 rebounds and 12 assists for the 55th triple-double of his career. He already has matched his triple-double total from last season less than halfway through this one, and last year's total was the most for a player since Magic Johnson had 18 during the 1981-82 season.
Kiwi centre Steven Adams had a solid role to play in the victory, playing a game-high 39 minutes.
He had 12 points, eight rebounds, two blocks and a steal and assist apiece on 6/13 shooting from the field.
Fellow big man Enes Kanter scored 19 points and Victor Oladipo added 16 for the Thunder, who won their third straight and avenged their worst loss of the season. The Thunder lost 114-80 in Memphis on Dec. 29, a game Westbrook was ejected from.
Mike Conley scored 22 points, and Zach Randolph and Chandler Parsons each scored 14 for the Grizzlies.
- With AP