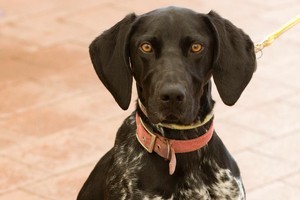 Lani is a 2-year-old German shorthaired pointer whose intelligent nature and striking colouring would make her a one-of-a-kind pet.
She would be suited to a cat-free household where she would be mentally and physically stimulated on a daily basis.
SPCA canine attendant Taryn Mager said Lani was a loving dog who needed an owner that understood the German shorthaired pointer breed.
The hunting dogs tended to follow their nose, so any potential owner had to be willing to set consistent rules and boundaries.
"She needs an owner who will be able to do stuff with her. In her previous home she was left alone quite a lot," said Mrs Mager.
Lani, who has a shiny black coat and black and white spots on her legs and belly, would not be suitable for a home with younger children because of her large size.
To adopt Lani, or any other animal at the SPCA's village in Mangere, contact the SPCA on (09) 256 7300.
Lani's village ID is 203612.