With Voyager 1 about to leave our solar system, Paul Charman salutes the craft's famous gold record.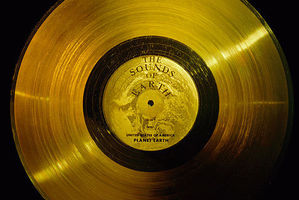 All us space buffs are excited as Voyager 1 finally prepares to leave the solar system.
For anyone who came in late, Voyager 1 is a space probe, which was loaded with scientific instruments and launched into space in 1977.
A sister craft, launched the same year - Voyager 2 - is hard on its heels distance wise, though headed on a different trajectory.
Both have recorded a plethora of data and taken wonderful photographs of planets.
But being the faster of the two (travelling at 19 km-a-second) Voyager 1 is about to become the first man-made object to leave the solar system.
What's more, still very much alive and "listening" for a few more years yet, this little fridge-sized space craft is destined to become the first physical "calling card" to whatever is out there.
It has a gold plaque inscribed with pictorial greetings and a gold space-proof record strapped to its side. This disc contains a selection of images, sounds and music from our planet, which can be played using an on-board phonograph (instructions provided).
Voyager has been flying towards the edge of the solar system for decades, but the BBC says it's now at the limits of the Sun's domain, ready to break through the turbulent bubble where solar particles collide with those from deep space.
Back in 1977 the men at Nasa didn't bother to aim this message in a bottle at anything particularly promising.
Nobody then knew about the stars we're now finding, which apparently have Earth-like planets orbiting them. In other words, places which really could harbour record-playing life forms.
Instead, Voyager will - in about 40,000 years - speed to within about 1.6 light years from an obscure star called Gliese 445, then head out into the great blackness of empty space.
It's perhaps a bit like squandering an opportunity to travel anywhere on the globe by choosing a point close to the Slough Trading Estate, in England.
But some of us space buffs still like to imagine aliens/angels are out there are, so to speak riding the range when Voyager comes spinning by.
If they see the craft coming, it won't be easy to monitor the gold record. They'll have to catch up with the fast-moving craft, study the record playing instructions, get the turntable spinning and place the needle in the groove. And since sound doesn't carry in a vacuum, they'll also have to provide a bubble of air for the occasion.
All things considered this project is more romantic statement than serious effort to communicate, but that doesn't worry space buffs one jot.
As the late astronomer Carl Sagan noted: "This spacecraft will be encountered and the record played only if there are advanced space-faring civilisations out there. But the launching of this 'bottle' into the cosmic 'ocean' says something very hopeful about life on this planet. Thus the record is best seen as a time capsule or a symbolic statement more than a serious attempt to communicate with extra-terrestrial life."
For all that, Voyager could potentially tell its finders much about us.
For example, electroplated upon the record cover is an ultra-pure sample of uranium.
This has a half-life of 4.468 billion years, making it possible for the finders to use the ratio of remaining uranium to determine its age.
We on Earth may be long gone, but at least they'll know we existed - and about when too.
The record cover carries the inscription, "To the makers of music all worlds, all times", hand-etched on its surface.
There's a message from former US President Jimmy Carter, reading: "This is a present from a small, distant world, a token of our sounds, our science, our images, our music, our thoughts and our feelings. We are attempting to survive our time so we may live into yours."
The disc itself has 116 pictorial images of scenes from Earth, which are encoded in analogue form.
The remaining space on the disc is audio - an hour-long recording designed to be played at 16⅔ revolutions a minute.
Thanks to Youtube you can judge the artistic value of these Sounds of Earth for yourself.
There are greetings in various languages, part of Beethoven's Fifth, a horse and cart clattering along the road and many more varied sound fragments.
For some reasons, the selection features Chuck Berry's 1958 rock'n roll classic, Johnny B Goode.
I can't imagine how this one found its way onto Voyager 1, although I've always liked that line which goes: "He never did learn to read and write so well, but he could play that guitar like ringing a bell."
From this, the aliens may conclude we're a race of semi-literate, party-loving wasters (ah, but the truth hurts).
There's about a dozen world music tracks, such as a Mugam song from Azerbaijani.
Louis Armstrong and his Hot Seven do a nice version of their trad jazz piece, Melancholy Blues.
What a Wonderful World might have been a better choice, but there you go.
For me the most memorable song on the golden record is, Dark Was the Night, Cold Was the Ground, performed by 1920s slide guitar maestro Blind Willie Johnson.
This one really pays its way, in my view.
Hardly cheerful, it's said to evoke the intensities of Christ's passion and death, but to me it's strangely soothing.
This song has been lauded by the likes of slide guru Ry Cooder and singer-guitarist Jack White.
But don't get your hopes up too high, for this song is an acquired taste being sung with moans rather than words.
Yet I can think of no better sound track for the dark solitary journey of this little space ship.
Nor in my view is there a better song to sum up the lonely ups-and-downs of life on this little blue planet, home of the race which sent out Voyager 1.