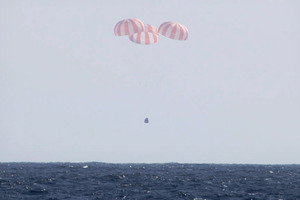 An unmanned, privately-owned US space capsule which took supplies to the International Space Station has splashed down safely in the Pacific, its mission completed.
"SPLASHDOWN!'' owner SpaceX tweeted. "Welcome home!''
Its descent slowed by three large parachutes, the Dragon capsule dropped into waters 320 kilometres off the coast of Mexico.Ships set out to pluck it from the water.
The day started with crew using a robotic arm on the ISS to complete the delicate de-linking of the capsule after a mission of just over three weeks.
Dragon delivered 544 kilograms of food, scientific material and other equipment during SpaceX's second resupply mission to the space station, which currently has a crew of two Americans, three Russians and a Canadian.
The capsule returned to Earth much heavier than on its outbound journey, as it carried more than 1180 kg of equipment from experiments conducted on the ISS.
One was designed to study molecular changes to a small flowering plant in microgravity. A related study examined how the plant roots hold up in low-oxygen environments.
The Dragon's docking with the ISS in early March after it was launched from Cape Canaveral in Florida aboard a Falcon rocket was delayed by 24 hours because of a problem with the capsule's thrusters that was quickly resolved.
The voyage was the third mission by the private SpaceX - whose name is short for Space Exploration Technologies - to the ISS under contract with NASA. The first of the missions was a test flight.
The return also happened a day later than originally scheduled because of bad weather in the splash-down area.
- AFP