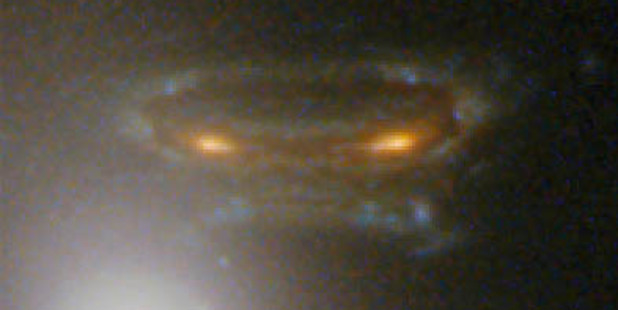 The Hubble Space Telescope has captured an image which looks suspiciously like a villain from the hit 1970s video game Space Invaders.
The image was taken by Hubble's Wide Field Camera 3, combined with near-infrared observations from the telescope's Advanced Camera for Surveys.
Ray Villard, from the Space Telescope Space Insitute in Baltimore, says the sinister-looking feature is due to "gravitational lensing".
"The gravitational field surrounding this massive cluster of galaxies, Abell 68, acts as a natural lens in space to brighten and magnify the light coming from very distant background galaxies," he wrote on the NASA website.
"Like a fun house mirror, lensing creates a fantasy landscape of arc-like images and mirror images of background galaxies. The foreground cluster is 2 billion light-years away, and the lensed images come from galaxies far behind it.
"In this photo, the image of a spiral galaxy at upper left has been stretched and mirrored into a shape similar to that of a simulated alien from the classic 1970s computer game "Space Invaders!" A second, less distorted image of the same galaxy appears to the left of the large, bright elliptical galaxy."
The photo also features a stunning feature that is unrelated to gravitational lensing.
"What appears to be purple liquid dripping from a galaxy is a phenomenon called ram-pressure stripping. The gas clouds within the galaxy are being stripped out and heated up as the galaxy passes through a region of denser intergalactic gas," Villard wrote.