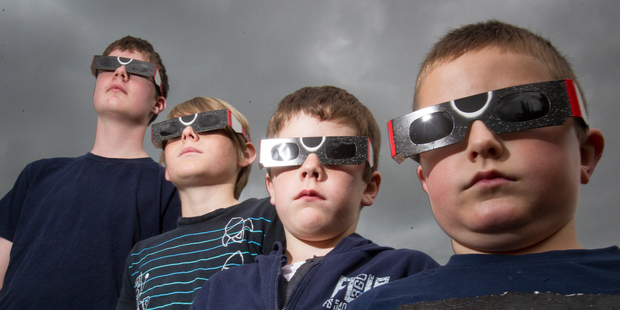 From left, Connor Hackney, 13, Jackson Clayton, 11, Liam Hackney, 8, and Caleb McCormack-King, 7, show off their protective eclipse glasses. Photo / Kellie Blizard
While 60,000 scientists, astronomers and eclipse chasers flock to Cairns and the Great Barrier Reef in northern Queensland to view a total solar eclipse today, Kiwis can also get a glimpse of the rare event when the moon crosses directly in front of the sun.
In New Zealand, Northlanders will get the best view when it reaches "maximum coverage" and the moon obscures 89 per cent of the sun at 10.25am in Whangarei.
Farther south the sun will be more visible and should appear as a slim crescent from Earth.
Royal Astronomical Society of New Zealand spokesperson Haritina Mogosanu said New Zealanders would not experience the pitch blackness that Cairns would, but warned it would get "darker and colder" during the few minutes the moon covered the sun.
"Even if we have clouds it will still be weird ... It's going to be very cool."
Replay the eclipse:
The Solar Saros 133, a series of eclipses which occur about every 18 years, is scheduled to begin in New Zealand at the North Cape at 9.12am with the moon first creeping over the sun's disc before being viewed from around the country. It ends just before lunchtime.
"The more you go north, the more you would see the sun being covered by the moon. If you go to Cairns you would have the totality."
Ms Mogosanu said it was a once-in-a-lifetime opportunity. "It's not something we should take for granted. It's something fantastic that we can see a total solar eclipse."
Weatherwatch.co.nz head weather analyst Philip Duncan said the forecast for this morning across the country was partly cloudy, but he did not think this would be enough to block people's view.
"It just depends on how long those clouds linger but they will be passing. We are not expecting it to be overcast so everyone will get glimpses of it."
However, New Zealand Association of Optometrists national director Dr Lesley Frederikson warned people not to get caught up in the excitement and look directly at the sun because it could cause permanent damage to their eyesight.
She said the safest way was to view the solar eclipse by creating a BoxEye, a simple pinhole camera device, to view the projected image.
Visique director and optometrist Melissa Hay said the other option was to buy glasses with certified solar filters designed specially for direct viewing of the sun.
"This is really important during a solar eclipse. The sun might be disappearing but you'll still be able to see its powerful rays - standard sunglasses simply won't cut the mustard."
Meanwhile, the real enthusiasts including groups from Nasa, the European Space Agency, Britain and Asia will be up at 6.38am Australian time (9.38am NZ time) to view the total eclipse from land, boats at sea and even hot air balloons. Psychologists will also be there observing, but it will be people's reactions to the natural phenomena they are most interested in.
Special solar viewing glasses are available at some optometrists and viewing observatories.
The last total solar eclipse visible from New Zealand was in the Far North in 1965.
Places to view the solar eclipse in New Zealand and the view of sun at maximum eclipse in each area:
*North Cape: 10.21am, 91 per cent
*Whangarei: 10.25am, 89 per cent
*Auckland: 10.27am, 87 per cent
*Tauranga: 10.30am, 86 per cent
*Hamilton: 10.29, 85 per cent
*Wellington: 10.34am, 76 per cent
*Christchurch: 10.34am, 68 per cent
Best places:
*Northland.
*Carter Observatory in Wellington from 9:26am to 11:48am.
*Stardome in Auckland from 9am to 1pm.
Tips for watching it:
*Don't look directly at the sun.
*Either wear solar viewing glasses or view the image indirectly.
*View it at the time where the moon is expected to cover the maximum amount of the sun.
*Clear skies provide better viewing - It will stay at the maximum eclipse for about two minutes.
*The further north, the more the sun will cover the moon. Far North watchers will get closest to experiencing a total solar eclipse.