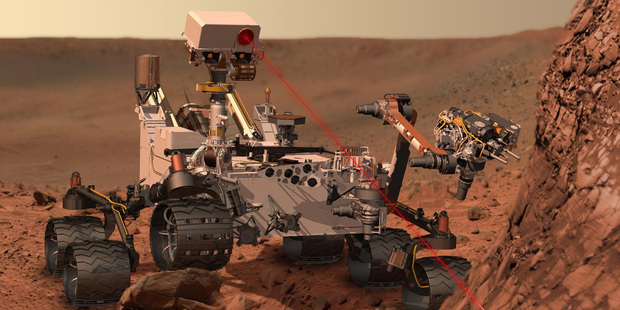 The mars rover Curiosity will look for life on Mars. Picture (artist's image) / AP, Nasa
Forty-three years ago the Aussies brought you Neil Armstrong stepping on to the moon.
On Monday they'll be the first to record America's bid to find life on Mars.
The Canberra Deep Space Communications Complex, operated for Nasa by the state science agency CSIRO, will be listening as the Mars Science Laboratory rover Curiosity arrives after a 450-million-km, eight-and-a-half-month journey from Earth. Backing up the Canberra tracking station will be the massive telescope at Parkes, 360km west of Sydney, which broadcast the moon landing live on July 21, 1969, to about 600 million people worldwide.
The European Space Agency's New Norcia antenna near Perth will also receive signals from Curiosity via its Mars Express satellite at present orbiting the red planet.
Curiosity, described by Nasa as the most complex and capable explorer ever sent into space, carries a suite of instruments including a laser, a laboratory able to identify organic compounds and a 2m robotic arm able to bore into Martian rock.
The rover is planned to determine if Mars ever had - or has - an environment capable of supporting small microbial life forms, landing at the base of a 5km-high mountain in the centre of the Gale crater, named for 19th century Australian astronomer Walter Gale.
If all goes to plan, the spacecraft carrying Curiosity will slam into the Martian atmosphere at 20,000km/h, slowing to zero within minutes and lowering the 900kg rover by crane to the surface of the planet.
The exact time of landing is not certain because of factors such as the time it takes to descend by parachute, Martian wind speeds and the flight of the spacecraft itself.
Confirmation of a touchdown signal could be received on Earth at 5.31pm NZ time, at the earliest.
Just outside Canberra the deep space communications centre will be listening with its two 70m and 34m antennas for signals both directly from the spacecraft and relayed through Nasa's Mars Odyssey, in orbit around Mars. The Parkes telescope will also record signals directly from the spacecraft as a backup in case there is a problem with the relaying.
But as the spacecraft descends it will drop below the Martian horizon - out of direct sight of Earth-based antennas - about two minutes before touchdown, and Parkes will stop receiving its signals.
Signals from the Canberra station will be sent directly to mission scientists at Nasa's Jet Propulsion Laboratory in Pasadena, California. Data from Parkes and New Norcia will be sent later for analysis.
"The expertise of Australian personnel in space communications and CSIRO's partnership with Nasa will be showcased during this critical event in the Mars Science Laboratory's mission," CSIRO Astronomy and Space Science chief Phil Diamond said. "All of our technology and our people are ready."
In 1969 the moon landing was monitored by Honeysuckle Creek, Parkes and Nasa's Goldstone station in California, but Parkes was used for TV broadcasts because of the quality of its pictures.