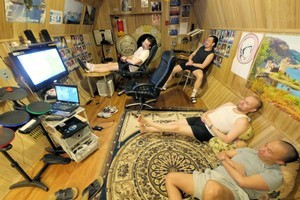 After spending a year-and-a-half locked away in steel tubes, six astronauts are about to return to the real world.
The Mars500 project - undertaken at a Moscow institute - was intended to find out how the human mind and body would cope on a long-duration spaceflight.
The study included a pretend landing on Mars, where three of the crew donned real spacesuits and walked across an enclosed sandy yard.
The crew, comprised of three Russians, two Europeans and a Chinese national, have had only limited contact with the outside world since they were locked away on June 3 last year.
Their "spaceship" has no windows, and the protocols demanded their communications endure a similar time lag to that encountered by real messages as they travel the vast distance between Earth and Mars. The round travel time for a question to be sent and for an answer to be received was about 25 minutes.
The men when they "land" back on Earth at 14:00 Moscow time (10:00 GMT) today. They will hatch from their sealed home before being whisked into quarantine for three days of medical checks.
The European Space Agency's Dr Martin Zell told the BBC he could only "praise the crew for their courage and great spirit".
"They were a brilliant team - they really will finish as a crew and not six individuals."