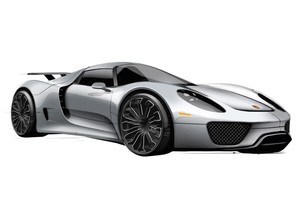 Porsche is planning to develop a sports car that would compete directly with the more exclusive Ferrari brand.
"It always irritated me that the (most expensive) 911 tops out at £250,000 ($435,000) and then the 918 continues starting at £750,000," CEO Matthias Mueller said to a German newspaper.
He added: "In between, Ferrari cavorts around relatively comfortably and without any competition. That is where we need to be. There is still space for a larger sports car, one like the 959 that we built in the 1980s."
Mueller said such a model could cost £250,000 to £400,000.
So far, Porsche has announced plans to have seven model lines, up from the four it is currently selling, as part of its goal to boost annual global sales to more than 200,000 units by 2018, up from 97,000 last year.
A new, pricier sports car would be number eight. Mueller has planned - in addition to the existing four model lines: Boxster, 911, Cayenne and Panamera - a small mid-engine roadster patterned on the 550 Spyder, a smaller SUV dubbed the Cajun and a smaller version of the Panamera GT.
- NZHERALD STAFF